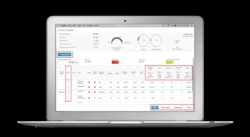 San Mateo, CA, July 14, 2016 --(
PR.com
)-- Clarizen, a global leader in collaborative work management software, today announced its latest major product release. The latest release accelerates productivity, communication and engagement at every level of the organization, with a comprehensive set of features that enhance project portfolio visibility and align business objectives with resource and project planning. With SharePoint integration and extensive integration with JIRA, Clarizen continues to bring together disparate systems, giving users a single intuitive interface to transparently share information and data.
"Our unique approach to collaborative work management engages users through increased visibility that is actionable across all lines of business, departments and teams – both internal and external," said Yoav Boaz, Clarizen's VP of Product. "Our latest release, takes this vision even further by enabling portfolio managers to better balance future project demand based on forecasted resource needs, as well as ensure that projects being selected are aligned to key strategic business objectives."
The release includes Clarizen's portfolio optimizer that empowers businesses to optimize project and program portfolios by automatically calculating project alignment to weighted business objectives while balancing financial metrics of planned and in-flight projects. Different alternatives and proposals for a portfolio can be saved and discussed while evaluating resource availability for the given options. Once a proposal is approved it can easily be placed into execution phase with visibility into priorities, project financials, and delivery timelines.
New Release Featured Highlights:
- Accelerates business objectives by aligning project portfolios with strategic goals and providing "what-if" scenarios to optimize financial planning
- Catapults business planning and deployment capabilities through time-based workload allocation and tighter resource optimization
- Improves user productivity and collaboration by managing and viewing SharePoint content directly in Clarizen
- Aligns formerly siloed project activity by integrating multiple instances of JIRA to streamline and centralize project planning, visibility and reporting
- Provides faster time to value by eliminating manual administrative processes in transferring configurations like profiles, views, and reports and dashboards, from sandbox to production instances.
- Enhances user experience to promote engagement and adoption with features such as simplified navigation bar, optimized calendar view, configurable summary card, and the ability to favorite items.
Clarizen continuously delivers bi-weekly updates which include new features in preview mode. All customers also receive major quarterly release upgrades with increased functionality. The latest release is now available at no charge to existing Clarizen customers. Learn more by
watching a recorded demo
of these latest features in action.
For regular Clarizen company and product-related updates, subscribe to Clarizen's blog or visit: http://www.clarizen.com/about-us.html.
About Clarizen
Clarizen is a global leader in collaborative work management software, bringing together cross-company project management, configurable workflow automation, in-context collaboration and a tailored, role-based experience, all built on a secure, scalable enterprise platform. Clarizen simplifies work, reduces communication overload, and provides extensive visibility at any level of the enterprise, so everyone can work more effectively, adapt to changes and achieve their objectives. Thousands of organizations across 79 countries, including dozens of the Fortune 500, rely on Clarizen's award-winning solution. The company is privately held with locations all around the world, including San Mateo, CA, Tel Aviv, and London. For more information, visit www.clarizen.com.
Clarizen is a registered trademark and the Clarizen logo is a trademark of Clarizen Ltd. All other trademarks are the property of their respective owners.
Media Contact:
Jen Howard
650-544-2937
jen.howard@clarizen.com