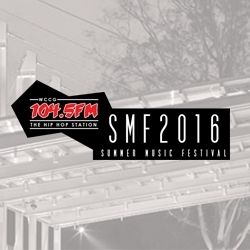 Fayetteville, NC, July 14, 2016 --(
PR.com
)-- WCCG 104.5 FM blazes the summer once again, celebrating 9 years of showcasing new talent in Fayetteville, North Carolina. One stage, tons of screaming fans and hip hop's biggest names in new music will gather in Fayetteville, North Carolina for the only "free" hip hop event of the year. WCCG 104.5 FM, Fayetteville, North Carolina's first choice for hip hop and R&B, announced today the lineup for 2016 Summer Music Festival. Get ready to see performances by: Universal Republic's newest female group, Karma, known for their trendy break out single, "High Life"; Spectacular, debuting this year as a solo artist, of the heartthrob group Pretty Ricky, on the heels of his popular hit single, "She Don't Love U' which features, Tory Lanes and Rich Homie Quan; Carolina's own, Ricco Barrino and Colonel Loud known for their Billboard hit, "California"; Capitol Records national recording artist, Malachiae Warren, a 21 year old R&B crooner, making waves with his latest singles "Thank Yo Momma," which features Migos, and his newest "Minute Maid" off the "Heard U Was In My City" – EP; along with BBOD from the popular VH1 reality show, "Love and Hip Hop NY"; Da Pretty Boyz, noted for their contagious viral single, "Crank that Pretty Boy" and now, "Netflix and Chill"; and Kayla Brianna, daughter of NBA great Kenny Smith, exploding the R&B scene with her latest single, "Work for It" featuring YFN Lucci. WCCG will also showcase Fayetteville, North Carolina's home grown talent such as Sweepstakes, Junior Jones, Jay Bless, Lil Dirty Black, Lil Bama, Glock Styles and many more celebrating over 20 years of "free" community events. WCCG will also honor local community leaders and personnel who have made a difference in the Sandhills of North Carolina. On Saturday, July 23, 2016, WCCG 104.5 FM, musically invades, Downtown Festival Park for hip hop's most anticipated show of the year and it's absolutely free.
WCCG 104.5 FM, Fayetteville's First Choice for hip hop and R&B is inviting Hip Hop and R&B fans and music lovers worldwide to experience WCCG 104.5 FM 2016 Summer Music Festival first hand on July 23, 2016. Put a face to the music you listen to on popular streaming and social media platforms, such as Spotify, Itunes, Google Play, Vine, Instagram, YouTube, Twitter and many more. If it's at WCCG 104.5 FM 2016 Summer Music Festival, you know it's guaranteed to be the experience of a lifetime.
Check out the WCCG 104.5 FM Festival Stage, located in historic Downtown Fayetteville, North Carolina, on July 23, 2016, from 4 p.m. to 10 p.m., to see all performances by: Colonel Loud, Ricco Barrino, Malachiae Warren, Spectacular, Karma, Kayla Brianna, Da Pretty Boyz, and more.
Fans will have the chance to receive WCCG 104.5 FM autographs, photo opportunities and much more, along with incredible experiences such as meet n' greet with an artist, front row seating, backstage tours, exclusive WCCG 104.5 FM merchandise and more. Make sure to check out www.wccg1045fm.com for more information to the largest hip hop event in North Carolina.
WCCG 104.5 FM, 2016 Summer Music Festival is powered by Def Jam Records, Atlantic Records, EOne Music Group, Universal Records, RCA Records, Epic Records, Interscope Records, Capitol Records, Columbia Records, Chick-Fil-a, Fazolis Italian Restaurant, Empire Distribution, Fayetteville State University, Fayetteville PWC, Cape Fear Heroes, and Buffalo Wild Wings.
WCCG 104.5 FM