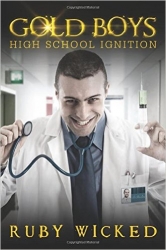 Houston, TX, August 09, 2016 --(
PR.com
)-- The latest work by Ruby Wicked is an intriguing story of two senior high school boys who unknowingly spark the insanity of a doctor. Garrett Pierce and Scholls Parker come from vastly different worlds and connect unexpectedly. Dr. Berg's mental illness creates bolting verbal psychotic episodes which only serve to further inflame his delusions. This causes a saga of uncertainty for one of the boys and has the reader anxiously wondering if his madness will be avenged, or end in tragedy?
As shared by the author's publicist, the author has had her own share of despair and hopelessness, and eloquently likens a woman's suffering to something that will "surround you like a cloak, steal your soul, and pillage the essence of your being." After a brief wallow in self pity, Wicked decided it was time to do something about it. Wiping away the tears, she opened her computer, and on January 12, 2015, started the novel, "Gold Boys: High School Ignition."
Several years earlier, as characters popped into Ruby's mind, she randomly saved them in a Word document, not knowing what she planned to do with them... it just seemed like the thing to do at the time. At the time she was busy inventing a product, heading up a small business and wanting to become more. In essence, Grandeur of Slight Possibility; God was with her and she found success.
Eleven years and some days from the initial thought, she again sat down at her computer with the intention of doing some "housecleaning" by deleting old files. What did she see? A category called, "about the characters." Taking a deep breath, she opened the file. With heart racing, she scanned through the paragraphs, and then and there, that night, the novel began. Would it be short or long? Her fingers typed away for 7 1/2 months while she survived, maintaining her livelihood with a day job. Ruby wrote and it was as if watching scenes from a movie... her fingers flying on the keyboard, she saw the paper bringing it to life.
Ruby's motto is to take any blessings you get and be thankful for them. Much of her life was traveled down that path less trodden. Although not the poorest of the poor, she was poor for all society purposes. The early choices she made stemmed from a chaotic childhood. Ruby loved but was not loved... that was the way it always seemed to her. In many ways, the "little girl" is still there, never gone, surfacing on occasion. Ruby loses herself in the roles of being a mother, a grandmother, a humanitarian and a writer.
Ruby Wicked...where did that pen name come from? That's being saved for the sequel. Ruby Wicked's work, "Gold Boys: High School Ignition" can be found at your favorite local bookstore, Amazon.com, barnesandnoble.com, etc. Watch for Ruby Wicked events being hosted near you.