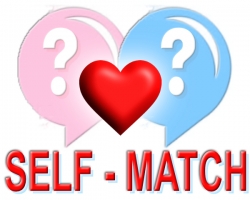 Houston, TX, July 19, 2016 --(
PR.com
)-- The current trend in speed dating leaves thousands of people frustrated and disappointed in the results of online dating. Traditional dating sites set as a goal to send their users on as many dates as possible to improve their chances of meeting their soulmates. In fact, dating people one barely knows reduces the chances to meet the right person, argues the founder of Self-Match.com, an unconventional future dating site that promotes survey-driven dating and is projected to launched in the Houston area first.
There are certain risks associated with speed dating. A personal interaction creates emotions that make people biased either against or toward each other. In the first scenario, people may not recognize that they are a good match. In the second one, they may develop feelings neglecting the fact that they are completely wrong for each other.
Self-Match offers a solution that is based on common sense, psychology, and best business practices (mainly the use of situational questions during job interviews). Its users will be able to engage in a thoughtful self-matching process through exchange of custom-built surveys. The vast library of questions is being created to reflect all possible life situations and sets of values and beliefs. The users will choose questions that are relevant or important to them and will send them to their potential partners. Upon completing the same survey, users can compare their answer choices and engage in a meaningful discussion concerning their compatibility. The process can be repeated a number of times until the users decide that they are a good match.
In brief, the advantages of the survey-driven approach are quite obvious: in order to choose the right questions, the users have to reflect upon their personal values and life choices; the survey exchange puts users in control of the matching process and helps them produce objective compatibility analysis; also, engaging in a survey exchange boosts users' communication providing an effective and fun way for two people to get to know each other.
The Self-Match Project is up and running offering future users' engagement in many ways. Houston area singles are encouraged to explore this innovative idea and get involved in the project by registering, participating in polls and Quests, and spreading the news through social media.