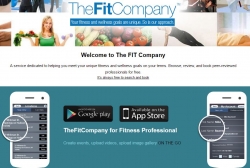 Brooklyn, NY, July 25, 2016 --(
PR.com
)-- TheFitCompany™ has launched FitFindr app, allowing wellness and fitness professionals the opportunity to reach new clients at the touch of a finger. TheFitFindr app connects wellness and fitness providers with customers seeking to stay in shape with a new training method, a new trainer or a specific program while travelling.
This one-stop shop app will allow wellness and fitness professionals to book appointments, fill training and yoga classes, fill gaps in massage schedules and connect providers with clients that are seeking specific expertise and services, whether at home or on the go.
Wellness and fitness professionals can create a complimentary customized profile that outlines areas of expertise and training or business locations.
Connect with new clients in real time and keep current customers on schedule and in shape.
The FitFindr complementary listing here:
www.thefitcompany.com