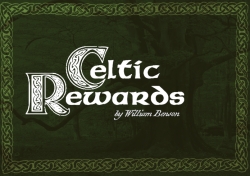 New York, NY, July 30, 2016 --(
PR.com
)-- After years of anticipation, William Benson's first novel "Celtic Rewards" has finally arrived. Prepare yourself for the astonishing and spine-chilling tale of an ambitious young man's mystical path to the most ancient and ultimate knowledge of all humankind.
Accomplished travel writer and executive, William Benson, has finally made the leap into the literary world with his first novel, "Celtic Rewards." Benson stated, "It has been a long and bumpy road to bring this tale to the public, but I couldn't be happier that 'Celtic Rewards' is in my reader's hands at last."
In "Celtic Rewards," Dan Cleary learns that there is much more to the world than dollars and sense. Through a roller coaster ride of action, thrills, and haunting mysteries, the cold, calculating executive learns of his ancient Druid ancestry, only to find that gaining the "Rewards of the Otherworld" has a price far more dear than any material cost.
Set in the 1990s, this novel provides a window into the world of cutthroat office politics at the birth of corporate offshoring. With this backdrop, "Celtic Rewards" offers a unique take on supernatural horror, using constant rational-world internalization and analysis of paranormal phenomena as Dan struggles to come to terms with his fate and risks everything he holds dear - including his sanity.
About William Benson
William Benson holds a master's of science degree and has over twenty years of corporate experience directing marketing and technology projects. He is a talented writer, with two travel/photography books, several articles and many photographs published online and in the mainstream media.
For more information about "Celtic Rewards," including high-resolution photos and press kits, please visit www.william-benson.com or contact info@william-benson.com.
"Celtic Rewards" is available via Amazon and Amazon Kindle at www.amazon.com/author/williamgbenson and at www.william-benson.com
William Benson can be followed at
https://www.facebook.com/williambensonauthor/
https://www.instagram.com/williambensonauthor/
https://www.flickr.com/photos/74445888@N00/albums