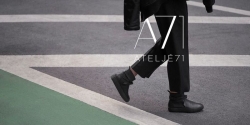 New York, NY, August 02, 2016 --(
PR.com
)-- ATELJE 71 is a footwear brand that lives at the intersection of keen comfort, fashion functionality and casual refinement.
The Company's unique filter is born out of its Swedish heritage and New York positioning. Providing subculture symbolism with hybrids such as sneaker-sandals and trainer-boots, the footwear is yet grounded in the real world where people consciously are choosing to have smaller wardrobes of basic, familiar products. ATELJE 71 aims to take the idea further by designing products with character that can allow the wearer to adopt various moods and attitudes.
ATELJÉ 71 proves that the "ugly" word of 'comfort shoes' is simply a component of an old stigma possibly created by men who still prefers women in stilettos. The NY based, Swedish motivated footwear brand designs street couture lifestyle hybrids such as ergonomic soled sneaker-sandals, removable leather-covered insoles and lightweight lug sole boots, and baby-butt soft over-the-knee stretched leather sneaker-boots.
The right shoes for a life on your feet goes beyond preventing blisters and calluses. Supportive shoes, including heels are key if you prefer to sport only one shoe for the entire day. Long gone are the days of hidden stacks of work-heels under the office desk or a tote bag with your subway trainers and moleskin band-aids.
The brand's design focus is on-the-go lifestyles of Millenials-to-Baby Boomers who demonstrate a casualization style of dress that's obvious even in the workplace. "Our customer fancy more than Athleisure, they want comfort and style, so we take cues for our cross-breads from the street, the runways and the rise of sneaker culture.
ATELJÉ 71 Stockist: Lane Crawford, Harvey Nichols, Nordstrom
www.atelje71.com
www.dropbox.com/s/d4fsppcw2j7gg3i/SMALL%20Press%20Release%20A71.pdf