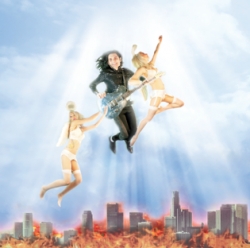 Los Angeles, CA, August 05, 2016 --(
PR.com
)-- On Wednesday, June 22nd, Corey Feldman released his highly anticipated double album Angelic 2 The Core dedicated to the memory of his late friends Michael Jackson and Corey Haim. In an interview with The Associated Press, Corey said 'there's something for everyone' on the recording, in which he plays several instruments including Guitars, Bass, Drums, Keyboards, harmonica, and programmed the drums on specific tracks, such as Ascension Milllennium, Test 1, 4Bidden Attraction (Feat Kaya Jones of Pussycat Dolls) and the one cover song on the album, a heartfelt remake of John Lennon's Working Class Hero.
Angelic 2 The Core is actually Corey's third complete solo album in addition to two other albums with his band Truth Movement. However, Angelic 2 the Core is his first solo album to be produced under his independent label CiFi Records, which he founded in 2009. Music has always been Corey's biggest passion and he has produced music for many of his films throughout the years, but has finally reached his ultimate goal and made history by having his hit single "Go 4 It!" featuring Snoop Dogg, make its debut on the Billboard Chart. Go 4 It! is also currently on the Digital Radio Tracker charts, The Record World charts, The Radio Wave Monitor charts, the MediaBase charts, the BDS charts and now he hit #40 on the Radio & Records chart. No one believed it could be done, but Corey Feldman has once again proven he's a force to be reckoned with.
Press Pass LA stated, "To their credit the albums hold up on their own enough that they don't need Feldman's star power to sell. The album, titled Angelic 2 the Core is 22 songs of Feldman exploring his range as a musician. Honestly, it totally works. Split up into a dance album and a rock album you can tell Feldman took his time on each track tweaking it to perfection. Of course it can't hurt that he had a lot of supporters. Everyone from Snoop Dogg and Fred Durst to Kurupt helped collaborate on the album to give it a very unique sound. Feldman didn't just release an album and expect fame. He more than paid his dues and learned the trade before releasing anything. That is to be commended in an culture where name dropping alone gets you attention. Feldman did the work and it shows."
For updated information on Feldman's most recent music ventures, follow him on Twitter @Corey_Feldman and be sure to check out www.angelic2thecore.com.