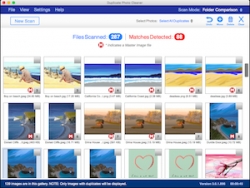 Fort Myers, FL, August 10, 2016 --(
PR.com
)-- Duplicate Photo Cleaner 3.0 is out and the new version introduces a Folder Comparison mode, finds even more similar images, and offers a vastly improved user experience.
Duplicate Photo Cleaner
is a popular Windows and Mac app that finds duplicate and similar images. Now it can compare two or more folders where one is the source folder and the rest are the target thanks to the new Folder Comparison mode.
The Folder Comparison mode makes it easy to find duplicate images on backups, external drives, and camera SD cards. It's especially useful for people with large image libraries that need sorting through and comparing one against the other. The new Folder Comparison mode makes that possible because the user can mark any folder as the Source folder and compare images in other folders against the ones in the Source folder. This helps to avoid confusion when managing the scan results as images in the Source folder are marked as originals.
Using Duplicate Photo Cleaner's new mode is very easy - it supports drag & drop and uses the same intuitive interface as the rest of the scan modes. The user can set the similarity threshold, select the image formats to scan for, and specify file size limits. When the scan is complete, users can compare the results at a glance, get detailed information about each file's location and properties, and delete the duplicates in one click. Duplicate Photo Cleaner protects images in the Source folders by marking them with an "M" icon. It also warns the user when he or she tries to delete a master image.
In addition to the new Folder Comparison mode, Duplicate Photo Cleaner 3.0 features an improved scanning algorithm that detects image similarities even better than before.
Duplicate Photo Cleaner is available for Windows and Mac. It comes with a free trial and the full version costs $39.95. More information is available at http://www.duplicatephotocleaner.com.
Company background:
WebMinds, Inc. is a vertically integrated company specializing in desktop application development, information technology and Internet services. WebMinds publishes and manages websites that reach IT professionals, small and home based businesses, individual PC users and executives in all phases of the technology decision-making and purchase process.
WebMinds delivers services, products and information to maximize the use of PCs and Macs for all users through its industry-leading websites and award-winning software.
WebMinds' flagship product, Easy Duplicate Finder, is used by millions of people worldwide and has numerous industry awards.