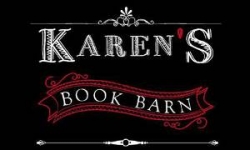 La Grange, KY, August 11, 2016 --(
PR.com
)-- With a Grand Re-Opening scheduled on August 27, 2016, former bookstore owner and senior staff member at Imaginarium, Frank Hall, Published Author and Executive Producer, Lynn Tincher, and best-selling author and owner of the award-winning small press, Hydra Publications, Tony Acree recently bought Karen's Book Barn in La Grange. Karen's has been an icon for 23 years. The three have big plans. Writing and publishing workshops, book clubs, weekly author signings, live music and much more will compliment over 40,000 new and used books, audio books, and movies. Plans for games, gaming and comic books are in the works.
Karen's Book Barn will have extended hours and open every day.
Mon-Thu 10 AM - 7 PM
Fri-Sat 10 AM - 8 PM
Sun Noon - 6 PM
"I was born and raised in La Grange and now to be part owner of such an iconic store in the town of my birth is a real thrill." - Tony Acree.
"I've always loved Karen's Book Barn. Having been born and grown up in La Grange, I'm more than thrilled to be here keeping the tradition alive." – Lynn Tincher
"I'm excited to own a bookstore again. Especially Karen's with its rich history in the wonderful town of La Grange." – Frank Hall
Join them for their grand re-opening party on Saturday, August 27th from 10:00 AM to 8:00 PM! Come by and meet Frank, Lynn and Tony and hear the new plans for Karen's Book Barn! Dave Creek, Stu Thaman and JJ Sherwood will be there as well signing copies of their books. La Grange native and owner of Prather Photography, Mike Prather, will be playing music and singing from 5:00 PM until 8:00 PM. They will have prizes, fun and games, and you can pick up a book or two. Help them kick it off right and keep the tradition of Karen's Book Barn, the place to meet old friends and new, alive. They look forward to seeing you!
About Karen's Book Barn
In 1998, Karen Eldridge purchased The Book Barn on Main Street La Grange renaming it Karen's Book Barn after ten years of a rich bookstore history. In 2006, it was sold to Terri Ralston and then sold to Frank Hall, Lynn Tincher and Tony Acree. The iconic name of Karen's Book Barn will remain under the new management.
About Frank Hall
Frank Hall is a senior staff member for the ultimate literary convention in Louisville, Imaginarium. Frank brings years of bookstore experience with owning That Book Place in Madison, Indiana for over nine years as well as the former owner of Hydra Publications.
About Lynn Tincher
Author, Public Speaker, and Executive Producer, Lynn Tincher was born just outside of Louisville, Kentucky in the beautiful city of La Grange. She has written four books, with the fifth one currently in the making. Her first book, Afterthoughts, was optioned for movie production by Kilted Pictures and Dancing Forward Productions in Los Angeles. It is currently in pre-production with plans to shoot in Louisville, Kentucky very soon. With Executive Producer credits, Lynn is working hard to draw on local talent and bringing the production of the movie to Kentucky.
About Tony Acree
Best selling author of the Victor McCain thrillers, Tony Acree, likes putting characters in situations they think they will never survive, and find out if they're right. Tony is also the owner of the award winning small press Hydra Publications. He lives near Louisville, Kentucky with his wife, twin daughters, two female dogs, a female cat, and says the way the goldfish looks at him, he's sure she's female, too.