BangItAmmo.com Announces CMMG Testing Black Butterfly Ammo in Their MkW Anvil
Black Butterfly Ammunition is proud to announce their handcrafted ammo has been selected by AR manufacturer CMMG for their new mid-sized AR rifle platform, the MkW Anvil.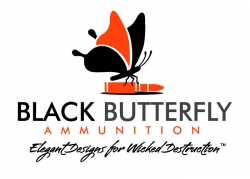 Greenville, SC, August 12, 2016 --(
PR.com
)-- Gun enthusiasts are frequently inundated by the sheer number of ammunition choices available. There is definitely a time, place and need for factory produced ammo, but depending on circumstances, required performance can and will necessitate the quality and consistency only custom ammunition can provide.
That is why
Black Butterfly Ammunition
is proud to announce their handcrafted ammo has been selected by AR manufacturer CMMG for their new mid-sized AR rifle platform, the MkW Anvil. Released in mid-June, this is one AR that is making itself known. Featuring CMMG's distinctive powerbolt design, the MkW Anvil "allows the rifle to utilize a modified AR10-sized bolt for increased durability…taking this caliber to its full potential," said Chris Reinkemeyer CEO of CMMG.
Size-wise the MkW Anvil design reduces overall weight while at the same time increasing ergonomics. The entire firearm is based on the AR10 platform with the upper receiver three quarters of an inch shorter and the lower receiver magwell reconfigured to accept a standard AR15 magazine. For a big game hunter in need of more firepower the new MkW Anvil utilizes "the durable AR10-sized bolt face with the large case diameter of big bore calibers such as .458 SOCOM," increasing accuracy and maximizing performance. On average, the AR15 magazine can hold 10 single stack cartridges, (11 if really squeezed,) which easily translates into precious seconds saved when zeroing in on a moving target. Complete with a carbine length gas system and SLR Rifleworks Sentry 7 adjustable gas block, the MkW Anvil offers quick and easy gas metering click adjustment depending on the .458 SOCOM ammunition selected.
Dedicated gun owners over the years have experienced many of the problems wildcat calibers have created when adapted to a standard AR15 platform. This is why the Anvil has a specialized bolt specifically made for the .458 SOCOM.
CMMG has tackled this problem head-on by including a stronger, more durable AR10 bolt face. Thanks to this one important development, the CMMG MkW Anvil is now the new standard for a wide range of bullet weights, muzzle velocities and larger case diameters.
Because of their commitment to quality, CMMG recognized the advantage of including samples of Black Butterfly Ammunition during their testing phase. Each hand manufactured round is individually inspected by a loading expert. Visual inspections, appropriate case gauge testing, along with random firing of production loads are performed on a regular basis. Black Butterfly Ammunition ensures each round meets their stringent requirements in order to function properly in a firearm.
Black Butterfly Ammunition for the .458 SOCOM can be purchased through their national distributor at Bang It Ammo at
Bangitammo.com
Contact
Bangitammo.com
Angela Jones, Marketing Department
877-533-5527
bangitammo.com

Contact