San Ignacio Resort Hotel in Belize Celebrates 40 Years of Family Hospitality
San Ignacio Resort Hotel is celebrating its 40th anniversary and to commemorate the event, the hotel will launch several activities highlighting and celebrating its importance as a pioneer in the Belize hospitality industry.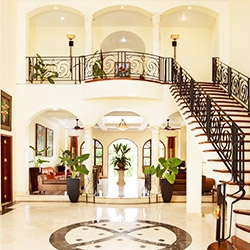 San Ignacio Town, Belize, August 18, 2016 --(
PR.com
)-- San Ignacio Resort Hotel, the longest standing hotel in San Ignacio Town celebrates its 40th anniversary, having officially opened to guests on August 17, 1976. To commemorate the event, the Hotel will launch several activities highlighting and celebrating its importance as a pioneer in the Belize hospitality industry.
Built on 17 acres of lush Belizean rainforest, the 26 room Resort forever changed the landscape of the hospitality scene in San Ignacio over the years. The San Ignacio Resort Hotel has set the precedent for premier hospitality services and standards, and continues to lead the industry 40 years later. The anniversary also honors the vision and legacy of the founders, Mr. and Mrs. Escander and Paulita Bedran.
"Celebrating 40 years of service marks a key milestone in the history for the hotel industry in Belize. As an iconic landmark amongst leading hotels in the country, The Resort stands as a significant part of San Ignacio's colorful history and has helped shape the hospitality industry in the Cayo District. This is an exciting year and momentous occasion for the San Ignacio Resort Hotel as it celebrates a historic past and looks forward to the future," said Mrs. Paulita B. Figueroa, Operations Manager at the Resort. "This longevity would not have been possible without the amazing commitment from our team over the past 4 decades," she continued.
Since its opening, the San Ignacio Resort Hotel has hosted and catered several local and international events. Everyone from Ambassadors to Ministers, Hollywood celebrities to NFL superstars, have all passed through its doors. The most noted was hosting Her Majesty Queen Elizabeth II in 1994. The Resort has continued to spread the light and warmth of hospitality ever since its opening however, it can't go without mention, that the most valuable and important visits over the past 40 years, has been the numerous guests that continue to choose the San Ignacio Resort Hotel as their home away from home while visiting San Ignacio, Belize.
The Resort began celebrating its 40th anniversary, 40 days ago, via social media with a series of images remembering its history. In addition, a new and improved responsive website is set to launch on August 17, 2016. "Our previous website was amazing and we received a lot of compliments. What better way to honor our 40th anniversary than to commemorate the day with a new and improved visual responsive website," said Trinity Castro, Marketing Manager. "Our goal is to remain current and competitive in this ever growing tourism market," she added.
In addition to the website, in-house guests will receive a special celebratory cupcake on August 17, 2016, special $40.00 menu options in our Running W Steakhouse & Restaurant and a digital photo exhibition named "San Ignacio Resort Hotel Through the Years" will also be displayed in the hotel lobby.
Meanwhile, the San Ignacio Resort Hotel is launching a series of campaigns and promotional activities to showcase its leadership in the industry and underline the company's unwavering commitment to providing unsurpassed levels of luxury and service in Belize. This will include a new tour package - "Belize Extreme Adventure Package' - to allow tourists to effortlessly enjoy the many wonders of the Cayo District.
Strategically located in San Ignacio Town, San Ignacio Resort Hotel has become a home away from home for business clients and leisure travelers from around the world. The hotel features stunning views, comfortable guest rooms and modern suites, impeccable service, extraordinary dining options from its award-winning Chef and the largest conference facilities in the Cayo District with over 5,500 sq. ft. of meeting space. The Hotel has also completed the majority of its renovation project introducing two new luxury suites, the Master Suite and a two-bedroom Royal Suite, each featuring first-class amenities.
Mrs. Mariam Roberson, Managing Director of the San Ignacio Resort Hotel said, "I am so overwhelmed and proud that my sisters and I are able to continue our Parents Legacy We have taken their vision to another level by introducing 'a new era of luxury' in 2007. We will continue to lead the way for the hospitality industry in Belize just as the hotel did when it opened on August 17th 40 years ago."
The San Ignacio Resort Hotel is a premier full-service Belize resort, located in the Cayo district. The hotel boasts first-class amenities and accommodations for those seeking to relax and enjoy a beautiful tropical resort, yet offers nearby adventure for those wanting to explore Belize. The luxury San Ignacio Belize hotel is centrally located for adventure tours to nearby archaeological parks, caves and nature reserves and boasts views of rainforest and wildlife from each of its 26 rooms.
Contact
San Ignacio Resort Hotel
Trinity Castro
501-824-2034
www.sanignaciobelize.com

Contact