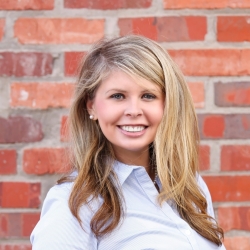 Denver, CO, August 19, 2016 --(
PR.com
)-- The National Parking Association (NPA) has selected Laney Solutions' Kathleen Laney, President, as a part of its 2016 40 Under 40 class of young professionals and up-and-coming leaders in the parking industry. Ms. Laney and the other chosen individuals, representing multiple sectors of the parking industry, will be inducted into the awards program at the NPA 2016 Convention & Expo on September 20 in Atlanta, GA.
Prior to founding executive recruitment and search firm Laney Solutions in 2014, Ms. Laney worked for more than 10 years in executive search, talent management and corporate strategy in the financial services and intelligent transportation industries. Known throughout the parking industry for providing clients with quality candidates and superior customer service, she has a unique understanding of the parking sector.
Ms. Laney graduated magna cum laude from Syracuse University, receiving a BA in Public Relations and Political Science and went on to complete a MS degree in Human Resources Management from Nazareth College of Rochester. She sits on the Website and Communications Committee for the Women in Parking association and is also an active member of Phi Beta Kappa.
In 2016, Ms. Laney was recognized as a top parking industry influencer and has presented on the future of parking as a profession through industry associations including the International Parking Institute and Women in Parking. She is also a monthly columnist for Parking Today, a leading industry publication serving parking and related industries.
NPA's 40 Under 40 inductees will participate in an exclusive peer network group. The 40 Under 40 Peer Network provides inductees with an exclusive opportunity to meet each other and ask questions, discuss best practices, and share ideas. The peer network will meet face-to-face at NPA conventions, have conduct quarterly calls, and contribute to an online forum on WeAreParking.org.
"I am humbled to be selected as part the 2016 40 Under 40 class. It is an honor to be recognized by the National Parking Association and want to thank the selection committee," said Ms. Laney. "I'm excited about the challenges and opportunities we have in the parking industry for the future and how we can continue to be key contributors to positive solutions."
"NPA is extremely proud to recognize the impact of the parking industry's best and brightest young professionals, and to also foster leadership development that will continue the industry's innovation and growth," said NPA President Christine Banning, MA, CAE. "The parking industry is undergoing dramatic change, especially in the area of technology, and young professionals are the forefront of this revolution. The 40 individuals selected represent major facets of the parking industry, and we are pleased to give them a platform to stand up and be counted."
Parking industry professionals were able to nominate a colleague under age 40, or individuals meeting the criteria could nominate themselves for the 40 Under 40 honor.
About Laney Solutions: Laney Solutions is the leading parking industry recruitment firm specializing in middle and senior management, experienced sales professionals and executive level placements. Founded in 2014, Laney Solutions provides retained and contingent recruitment services to parking industry and related organizations in the United States, Canada, Europe, and the Middle East.
www.laneysolutions.com
About NPA: The National Parking Association is the nation's leading parking trade group advancing the interests of the private and public sector in parking technology, sustainable mobility, certification, advocacy, research and education. Founded in 1951, NPA has more than 3,800 members and represents all facets of the parking industry. WeAreParking.org