Grand Opening of Flavors Creamery, Home of the Best Gelato Cookie Sandwiches in Los Angeles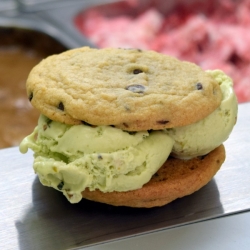 Glendale, CA, August 22, 2016 --(
PR.com
)-- Flavors Creamery is pleased to announce the grand opening of it's Gelateria, Flavors Creamery, in downtown Glendale, California. Flavors Creamery offers a large selection of gourmet Italian gelato, sorbet and home made cookie sandwiches. The gelato and sorbet are hand made fresh in Los Angeles with natural ingredients using authentic Italian recipes. The gelatos are all natural, smooth, rich and creamy with a dense texture and flavor. The sorbets are dairy free, fat free, cholesterol free, and 100% vegan. Using real butter, Flavors Creamery bakes cookies daily from scratch. Flavor Creamery's hallmark gelato cookie sandwiches are created by combining freshly baked cookies with creamy Italian gelato.
Flavors Creamery prides itself in bringing the best quality gelato and sorbet to it's home town of Glendale at reasonable prices. The 2 scoop cup is priced at $2, gelato cookie sandwiches are priced at $3, and cookies are only $.50 each or 12 for $5. Customers can select any 2 cookies and any 2 flavors of gelato to build their sandwich of choice.
Flavors Creamery invites the community to visit their gelateria in Glendale to try their gelato and sorbet first hand.
Store information:
Address: 109 E. Broadway Ave. Glendale, CA 91205
Phone: 818-696-2144
Web Links:
Facebook: https://www.facebook.com/flavorscreamery
Yelp: https://www.yelp.com/biz/flavors-creamery-glendale
Website: http://www.FlavorsCreamery.com
Hours of Operation:
Daily 11 AM - 10 PM
Contact
Flavors Creamery
Dikran Hovagimian
818 696 2144
www.FlavorsCreamery.com

Contact