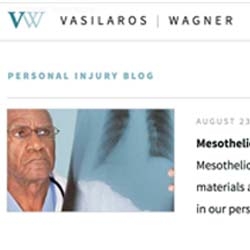 Daytona Beach, FL, August 25, 2016 --(
PR.com
)-- Local personal injury law firm Vasilaros | Wagner has recently launched a redesigned version of their website,
www.accidentfirm.com
, to provide victims of personal injury accidents the best possible online experience in their search for information and representation. Vasilaros | Wagner has teamed up with Daytona Beach web design agency Boldtask to create a web experience rarely matched in the domain of law firm websites.
The goal of AccidentFirm's redesign was not only to produce an easy-to-use, attractive initial point of contact for personal injury victims, but to provide a wealth of knowledge for anyone interested in learning more about personal injury law. AccidentFirm's comprehensive "Personal Injury Blog" (http://accidentfirm.com/research-personal-injury/personal-injury-blog/) discusses, in depth, a vast array of answers to personal injury questions, legal tips & tricks, and other pieces of invaluable information.
From a technical standpoint, not only is the updated AccidentFirm website more visually appealing, content rich, and easier to navigate, but it is also faster and more responsive across all devices (mobile, tablet, computer) and operating systems.
The redesigned website includes:
Free Case Evaluation
Personal Injury Blog
Practice Areas
Attorney Bios/Reviews
Firm Philosophy
FAQ
"We are incredibly proud of our redesign and all of the effort that went into its creation," said Joshua Wagner, firm partner at Vasilaros | Wagner. "I know that if a person is searching for a personal injury attorney, they are going through a difficult time, and anything we can offer to help make their situation go more smoothly, that is a great feeling. I hope anyone with personal injury questions can find the answers they're looking for on AccidentFirm.com, while also being able to effortlessly reach out to us for additional information or to schedule an appointment."
Vasilaros | Wagner's personal injury legal services include (but are not limited to):
Auto Accident
Child Injury Accident
Medical Malpractice
Mesothelioma
Motorcycle Accident
Swimming Pool Accident
Wrongful Death
Contact:
Joshua Wagner
josh@accidentfirm.com
721 Beville Rd.
South Daytona, FL 32119
(386) 777-7777