Personal Teller Machines Featured at New SAFE Federal Credit Union Branch
Personal Teller Machines are a First for a South Carolina-Based Financial Institution. SAFE FCU members in Columbia, SC can interact with tellers that are remotely located in Sumter.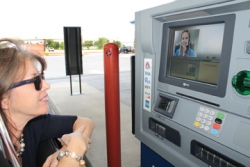 Columbia, SC, August 30, 2016 --(
PR.com
)-- SAFE Federal Credit Union (http://www.SafeFed.org) is the first South Carolina-based financial institution to offer Personal Teller Machines, allowing members to drive up to the machines – just as they do with an ATM – and interact with a live teller via a video screen and audio connection.
"We like to think of it as Skype-like banking from the convenience of your car," said Toby Hayes, vice president of marketing for SAFE.
The machines are located at SAFE's new branch, at 727 Fashion Drive in northeast Columbia. SAFE has moved its branch operations to the new building following relocation from a nearby facility in a storefront at the Village at Sandhill.
The Personal Teller Machines, known as PTMs, connect Columbia SAFE members with live tellers in Sumter, where the credit union is headquartered. The advanced machines are manufactured by NCR.
"Personal Teller Machines are the future when it comes to interacting with your financial institution," said Hayes. "They offer all the advantages of a face-to-face teller, but they allow you the ultimate convenience of conducting your business from your vehicle."
Hayes added, "We strive to help our members make money, save money, and save time in everything that they do with us. This is one more way we are helping them accomplish that."
Drive-up PTM users can conduct most any transaction typically handled at a traditional drive-up window while face-to-face with a teller. The PTMs offer connections to tellers during normal branch hours but revert to regular ATM operation after hours.
The new branch, with seven employees, features six inside teller stations and five member service representative offices. It also offers safe deposit boxes with biometric access. Aggie Smith, with more than a decade in the credit union industry, is the branch manager.
Hayes noted that the new branch reflects a strategy of moving away from shopping center locations in favor of standalone sites that can offer more convenience for members. "We have plans to relocate some other branches in the near future, so that we can offer PTM drive-through lanes and other features that make banking with us even easier for our members," Hayes said.
About SAFE Federal Credit Union
SAFE Federal Credit Union, founded in 1955, is the largest credit union in the Midlands, with nearly $1 billion in total assets, 112,000 members, and 19 branches. Membership is open to anyone who lives, works, worships, or goes to school in Sumter, Lee, Clarendon, Florence, and Orangeburg counties, as well as parts of Kershaw, Richland, and Lexington counties. Membership is also open to employees of more than 500 companies located throughout the Midlands and relatives of those eligible to join.
Contact
SAFE Federal Credit Union
Kevin Tanzillo
903-865-1078
SafeFed.org

Contact