Rebekah Duron Releases High End Coaching, Consulting & Product Conversion Blueprint
Rebekah Duron releases her free conversion training to help entrepreneurs build a proven and tested conversion system to increase their profits. With her crafted, systematic approach to conversion, she is pushing the limits when it comes to conversion and helping so many other business owners take control of their businesses.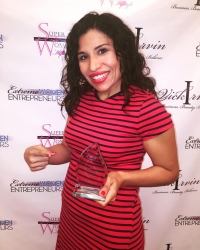 San Antonio, TX, September 09, 2016 --(
PR.com
)-- Rebekah Duron, the Conversion Specialist, is known as the expert on attracting dream prospects and converting them into clients. She is helping entrepreneurs all over America increase their revenues by implementing her tested and proven conversion system. Working with coaches, consultants, small business owners, network marketers, and anyone who offers a product or service, she is helping them transform their conversion process and ultimately make more money.
Rebekah is hosting a Free Conversion Training specific for entrepreneurs so they can see the problems with their conversion process and be able to fix it to boost their profits.
"If your conversion system consists of sharing facts, stating a price, and then asking 'yes' or 'no', then you are missing out on many new clients," says Rebekah. "Let's be real, this isn't a conversion system, and it's hurting your business."
Rebekah attributes her success as a conversion coach to being able to listen, communicate, and connect with prospects in order to bring about their desired results.
Business owners who are always looking to improve should join Rebekah on her free conversion training. They will learn these amazing strategies for conversion:
How to systemize your sales process and guide your prospect to becoming your client
How to build your authority in your marketplace so you can demand premium prices
How to pre-qualify your prospect to make sure they are right for your program and to make sure they are committed to investing
How to bridge the gap of your prospects needs to their desired result
How to set up the Perfect Close so that you don't come across as pushy or salesy, but rather filling your prospects needs with your product or service
"Grow your business, be able to help change more lives with your product or service, while making money and positioning yourself as a master of your industry."
Check out her free conversion training here:
http://www.onlinemeetingnow.com/register/?id=j20mrpna8l
Rebekah recently won the honor as 2016 Super Woman Lifestyle Marketer of the year. She graced the stage with three other competitors and won the hearts of the audience who awarded her this prestigious title.
For more information about Rebekah, visit http://www.RebekahDuron.com .
Contact
Rebekah Duron Int.
Rebekah Duron
210-669-0927
rebekahduron.com

Contact