Hope Street Stats Show Edmonton Rental Markets Holding Pace
Edmonton's housing prices are close to those of last year. Landlords continue to see increased vacancy rates.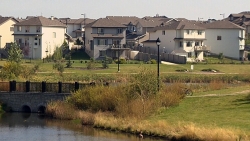 Edmonton, Canada, September 20, 2016 --(
PR.com
)-- In an economy that has been sluggish with low oil prices and shaky provincial policy changes, it is welcome news to see the new CMHC data showing that housing prices in Edmonton were only down by less than one percent compared to last year.
With more houses on the market and most houses staying on the market for long periods of time compared to 2014, some home owners have found themselves in the role of "Accidental Landlord" when they can't sell their house.
"We built a new home and listed our old house months before it was finished, but it still didn't move. We chose to rent it out instead." – Tanya Wigmore, Landlord.
This situation is becoming common as more homeowners are finding themselves over leveraged, with empty homes, or with mortgages they can't afford. Some will attempt to self-manage but others turn to
Edmonton property management
companies to fill in.
"We have seen an increase in requests for property management in Edmonton over the past year as people try to manage their own properties and then realize that it's just not their skillset. Rental properties take a lot of effort to maintain and can easily become another way to lose money if you don't have the right team of people with the right skills to handle problems as they arise." – Shamon Kureshi, Hope Street CEO
Kureshi has been feeling the booms and busts of the Alberta rental markets since the '80s when he would tag along with his father to visit and help out tenants of his father's properties. "It's important to have great renters. Ones that pay their rent on time and leave a place in good condition." That's one of the reasons Edmonton home owners are turning to Hope Street and other property management companies. "We have worked hard to develop a strong reputation with both our landlords and our tenants. Tenants want a place they can call home, landlords want to receive cheques on time and have their properties in great shape. They also want to reduce the amount of vacancy in their properties and that is one of the real values of a property management company. When we have a tenant looking for a place to rent, we're able to show them several places. It's much easier than contacting several ads on Kijiji and as a result we tend to fill our properties very quickly."
The stabilizing housing market prices are a welcome sign as it will allow accidental landlords the option to get out of the rental market game if they want to. But for many, they will find that owning a rental property is a welcome additional source of income instead of the burden they had anticipated.
If you have questions about current rental properties in Edmonton or property management for a home you own in Edmonton, please contact Shamon Kureshi at HopeStreet.ca.
Contact
Shamon Kureshi
(780) 540-5199
HopeStreet.ca

Contact