Pollens Books Advises of September 25 Free Day for Special 35 Page "In The Beginning" Intro to New Sci-Fi Thriller, "Haunted - By The Road Not Taken"
Author Allen Pollens enthused, "Try it! You'll like it." He went on to say, "'In the Beginning' provides a several chapter intro to 'Haunted – By the Road Not Taken,' my latest science fiction offering. At its end, this unique intro presents the reader with a direct link to where the full 'Haunted' versions can be purchased. Amazon.com offers both Kindle and print editions."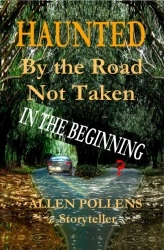 Beaverton, OR, September 21, 2016 --(
PR.com
)-- "How often do you find yourself unhappily committed to a book?" continued Pollens. "I believe that 'Haunted' would not fall into that category, but I decided to provide a special option...an 'In The Beginning' version...Free on September 25, 2016!"
"Here's what the story is about..." elaborated Pollens. "In spite of years of successful academic achievement, Dr. Harold Treadwell, a PhD psychologist at Philadelphia's Jess Hawkins University (JHU), has extremely low self-esteem. Memories of a year's earlier incident plague him and he loses himself in the complexities of a sleep-study research project. Harold's proposed research focuses on sufferers of undiagnosed and untreated mysterious pain... mental and physical difficulties that appear without warning and ruin lives. Harold spends five-years designing a sleep-stasis chamber... a necessary apparatus in the proposed study. Finally, he submits a grant application to the National Institutes of Health (NIH). Its approval is in doubt until an unexpected source of support with NIH influence surfaces. That much is all in the 'In The Beginning' intro and, hopefully, is enough to encourage readers to want the full tale. The intro runs more than 35 pages and more than 7000 words. It is regularly available for Kindle ($2.99) at Amazon.com and is free for one day on Sunday, September 25, 2016. Enter 'Allen Pollens, In the Beginning' in the Amazon search window or use this link:
http://tinyurl.com/hdb2ak2
."
Pollens added, "'Haunted – By the Road Not Taken' is also available at Amazon.com… in print ($13.99) and for Kindle ($6.99)."
About the Author
Allen Pollens has always had two personas. There is the tinkerer who always wanted to know, "How does it work?" That one became a graduate engineer and led a high-tech work life for more than forty years. Then there is the storyteller, Allen Pollens, who was spinning tales from the time he was a child. Allen Pollens has published more than twelve books. All are available at Amazon.com.
Contact: Allen Pollens / 503-407-2850 /
alpollens@comcast.net
tinyurl.com/hdb2ak2
Contact
Pollens Books
Allen Pollens
503-521-9681
storyteller-spot.com

Contact