Madison Street Capital Arranges Credit Facility for Centex Machining, Inc.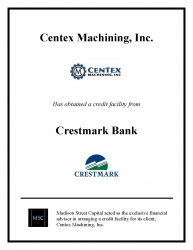 Chicago, IL, September 27, 2016 --(
PR.com
)-- Madison Street Capital ("MSC") acted as the exclusive financial advisor in arranging a growth capital credit facility for its client, Centex Machining, Inc. ("Centex"). The facility was provided by Crestmark Bank. The transaction was announced today by
Charles Botchway
, CEO of MSC. Terms of the transaction were not disclosed.
"Centex is led by an experienced and sophisticated management team with an unparalleled reputation as a premier contract manufacturer in the medical device field. It was a great opportunity to work with Centex and its President, Rich Phillips," said Charles Botchway. "This is the first in a series of transactions and we look forward to a long working relationship with Mr. Phillips and his team."
"It was refreshing to finally land with a group who quickly and thoroughly understood the situation, simultaneously laid out several plans of attack and best of all, put the optimal solution in place in record time and with no interruption to our business," explained Rich Phillips, President of Centrex. "The Madison Street Capital team was an unbelievable breath of fresh air, especially when compared to the obstacles presented by my more traditional commercial banking resources. A+ experience overall, I am looking forward to our next transaction."
About Centex
Founded in 1979, Centex has evolved with the medical-device industry, serving customers in the early years of double-digit growth and expansion, as well as the dynamic periods of corporate mergers and acquisitions. As the healthcare industry advanced, Centex proved its ability to work proactively with customers to address the ongoing pressures of reduced costs and new standards. Through the years, Centex has maintained a commitment to reinvestment in the state-of-the-art technologies vital to supporting the development and manufacture orthopedic implants, provisionals and precision instrumentation in this ever more complex and sophisticated segment of the medical industry. Today, Centex employs approximately 75 professionals running two full shifts each day in its purpose-built 25,000 square-foot facility located in Round Rock, Texas. For more information please visit
www.centexmachining.com
About Crestmark Bank
A business-to-business lender specializing in providing diverse financial solutions, Crestmark was founded on the notion that there was a niche in need of help: the small-to-medium sized businesses that needed funding the more traditional banks could not provide. So, founder W. David Tull left the world of traditional banking, and started Crestmark. Approved as a Michigan-chartered FDIC Bank in 1996, Crestmark opened its doors in Troy, Michigan, and today, still employs many of the people who were here at inception. Crestmark is a wholly owned subsidiary of Crestmark Bancorp, Inc., a bank holding company. For more information, please visit
www.crestmark.com
About Madison Street Capital
Madison Street Capital is an international investment banking firm committed to integrity, excellence, leadership and service in delivering corporate financial advisory services, merger and acquisition expertise, financial opinions, and valuation services to publicly and privately held businesses. These services position our clients to succeed in the global marketplace. In undertaking each new project, the client's goals and objectives become ours, ranging from financial advisory and successful capital raises to M&A transactions to transfers of ownership. Madison Street Capital views emerging markets as the core component driving the global growth of our clients, and will continue to focus significant assets on these markets. Our firm has earned the trust of clients around the world through our unwavering dedication to the highest levels of professional standards. For additional information, please visit our website at
www.madisonstreetcapital.com
Contact
Madison Street Capital
Courtney Fitzpatrick
512-888-2502
www.madisonstreetcapital.com

Contact