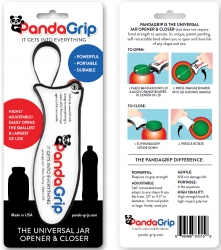 Santa Rosa, CA, October 21, 2016 --(
PR.com
)-- Biometrix Design Group, a product development and manufacturing firm based in California, is proud to introduce PandaGrip.
PandaGrip is an innovative, universal jar lid opener (and closer) that allows people to effortlessly open and close lids of virtually any shape and size; from the tiny nail polish bottle, to the large, family-sized, jars. It is the only lid opener and closer in the market with a self-retractable band for ease of use and versatility. PandaGrip is great for everyone, especially those with arthritis.
Key Benefits:
• Powerful: Requires no grip strength to use
• Highly Adjustable: A flexible, patent pending, self-retractable band adapts to any shape and size lid from from .25" to 4.5" in diameter
• Gentle: The polymer encapsulated band won't damage lids like metal-toothed jar openers
• Portable: Easily fits inside a pocket or purse
• High Quality: High-strength band and high impact polymer construction
As people age, their grip strength decreases and those already hard to open lids become even more difficult. For people suffering from arthritis, opening a lid can be even more painful. PandaGrip is designed to help people keep their independence by making it easy and fun to open and close lids without having to rely on others.
For more information about PandaGrip, please visit www.panda-grip.com.