Mehdi Reishi Named 2016 CPG Editor's Choice Award Winner by Informa's SupplySide
Mehdi Reishi Named Winner for CPG Specialty Supplements for Innovation and Market Impact.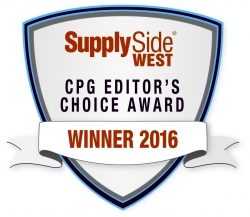 Rockville, MD, October 28, 2016 --(
PR.com
)-- Informa Exhibitions has named Mehdi Reishi's Organic Reishi Spores and Extract as the winner for the 2016 SupplySide CPG Editor's Choice Awards in the Specialty Supplements category.
One 2016 consumer packaged goods (CPG) product was selected by the SupplySide editorial team for achievements in innovation and market impact in each of the 22 different categories. The Organic Reishi Supplement line was named as the winner in the Specialty Supplements.
Winners in each of the 22 categories were announced at SupplySide West 2016 during the SupplySide CPG Editor's Choice Awards Presentations, set for October 6 and 7 at the Mandalay Bay Resort in Las Vegas, Nevada.
"We are very excited to receive the top award as a specialty supplement. As a leading provider of reishi products, we are happy to receive this recognition and that it will continue to bring awareness to the power and health benefits of high quality reishi. Reishi continues to show through science and tradition that it really is a wonder herb!" -Daniel M. Bartlett, Owner - Mehdi Reishi
Mehdi Reishi is a leading supplier of the highest quality reishi in the marketplace today. Principled on the core belief that 100% pure, natural and organic is the best way to improve health, Mehdi Reishi strives to provide its clients with the most pure and potent reishi in the world.
For nearly 20 years, SupplySide has helped dietary supplement, food, beverage, animal nutrition, personal care and cosmetic professionals find information to explore, discover, innovate and market their next best-selling product.
"This year's Editor's Choice Awards judging saw the team narrow down the field from hundreds of products to only five on the short list in each category," said Heather Granato, vice president, content, in Informa's Health & Nutrition Network. "The winning items stood out for bringing a combination of factors, from taste and delivery method to innovation in ingredients and cutting-edge science. They truly represent category leaders and set a high bar for next year's program."
For more information, visit supplysideshow.com.
About Mehdi Reishi: Mehdi Reishi launched in the beginning of 2016 with the vision and intention to bring forth a superior reishi product delivered uniquely in powder form as a functional superfood. Mehdi Reishi focuses exclusively on reishi and provides a top-in-class finished product as well as wholesale distribution. The spores are some of the finest in the marketplace today while the extract product is uniquely proprietary because of the ability to deliver without fillers and additives. All products are tended to by hand and are certified organic. For more information visit http://www.mehdireishi.com.
About SupplySide West: Hosted by Informa Exhibitions, this annual tradeshow and educational forum is the largest expo of suppliers fueling the healthy global marketplace. SupplySide West is all about the exploration, discovery, innovation and marketing strategy around the development of finished consumer goods that drive the global business economy. The 2016 show was held October 4-7 at Mandalay Bay in Las Vegas. For more information and for future SupplySide events, please visit www.supplysideshow.com.
Mehdi Reishi Media Contact:
Zach Platt
301-461-6452
zach@mehdireishi.com
Contact
Mehdi Reishi
Zach Platt
800-927-7166
www.mehdireishi.com

Contact