SmartRecruiters and EasyHire.me Announce Partnership to Tackle Interview Challenges
EasyHire.me, the online video interview platform announced a partnership with SmartRecruiters, a talent acquisition platform. Together, they will boast one of the preeminent cutting-edge systems on the market today.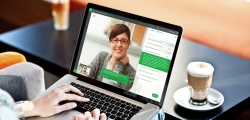 Mountain View, CA, October 28, 2016 --(
PR.com
)-- EasyHire.me delivers an affordable online video interviewing solution that brings efficiency, agility, and consistency to the recruitment process. With the EasyHire.me platform, customers can take advantage of video interviews directly within the SmartRecruiters' interface, allowing them to easily engage with their candidates.
"A fast and efficient hiring process is a strong competitive advantage. As companies work to scale their organization and expand to new regions, video interviewing enables efficient screening of large number of candidates and hire at scale, faster," says Jeremy Hoffman, Vice President of Sales at EasyHire.me.
"By partnering with EasyHire.me, SmartRecruiters will offer an integrated solution that makes it easier for talent acquisition teams to fill roles that are required to meet company goals and fill project requirements. As companies grow and scale, the video interviewing solution offers an efficient way to scout and hire talent," said Jerome Ternynck, Founder & CEO of SmartRecruiters "We're passionate about expanding our partner ecosystem with fellow best-in-breed tools, such as EasyHire.me, in order to enable our customers to quickly and efficiently hire the best talent."
About EasyHire.me
EasyHire.me is an unrivaled video interviewing platform that incorporates the power of on-demand and live video interviews, real-time skill assessment, interview analytics, and collaboration to speed up the candidate selection process.The state-of-the-art interview platform gives hiring managers, recruiters, and HR personnel the tools they need to successfully and efficiently recruit top tier talent in their industry. The startup is based in Silicon Valley and is founded on the basis of bringing cutting-edge technology to enable a structured and reliable process for recruiting professionals.
Please visit http://easyhire.me for a comprehensive overview of the platform.
About SmartRecruiters
SmartRecruiters' modern enterprise talent acquisition platform is the generational successor to yesterday's applicant tracking systems, allowing organizations to find, engage and hire the great talent they need to compete effectively in today's economy. Atlassian, Ancestry.com, Equinox Fitness Clubs, Marc Jacobs, NBTY, Skechers, and Ubisoft are among the leading enterprises that have replaced their legacy systems with SmartRecruiters' intuitive, powerful and complete solution.
Contact
EasyHire.me
Anjana Manian
650-218-9554
easyhire.me

Contact