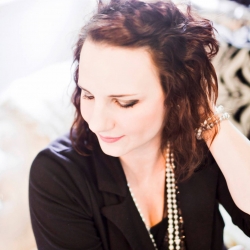 Jacksonville, FL, October 28, 2016 --(
PR.com
)-- As noted by The Center for Women in Business, the face of entrepreneurship is changing drastically. Over the last 15 years, women-owned firms have grown by one and a half times the rate of other small enterprises and now account for almost 30 percent of all businesses. Additionally, one in five firms with revenue of $1 million or more is woman-owned.
Ninety percent of women-owned businesses have no employees other than the business owner, compared to 82% of all firms. Only 2% of women-owned firms have 10 or more employees—trailing the 4% rate for all businesses. This discrepancy suggests that we can and must do more to support women in their efforts to build businesses, create jobs, and grow our economy.
Meet female entrepreneur success and business coach, and mother of five, Vanessa Kromer of Jacksonville, Florida. Vanessa makes juggling a family and working two jobs from home look easy as pie. As the CEO and Founder of her own coaching business (www.vanessakromer.com), Vanessa works with female entrepreneurs all over the world daily to coach them to success and help bring their businesses to life. Vanessa has a deep passion to come alongside women business owners, bloggers, creatives and more. She is known to "dive deep into their business as if it were her own, to meet them right where they are, no matter what their need is," as Vanessa says. Developing and working with female entrepreneurs means more to Vanessa than just a business, it is her calling.
In an energetic and motivating interview, Vanessa can further discuss:
-How having passion for your business is the ultimate key to entrepreneurial success
-How to balance your ROI regarding home and business for female entrepreneurs
-Why smart priority planning for home and work is so important for female entrepreneurs -Why developing and narrowing your niche and ideal client is pivotal to your success
-What is needed to properly speak to your potential customer/clients from the moment they open your website
-And so much more.
Vanessa has always been a natural leader. As a certified life and success coach, Vanessa helps hundreds of women tackle their goals and dream big daily. She is a fashion-forward self-made entrepreneur who loves to motivate and encourage other women to succeed and crush goals. She is a born leader and speaker with an energetic and fun personality!
In addition to running her own coaching business, Vanessa also uses her coaching skills as the Divisional Merchandise Manager for Chloe + Isabel NYC, where she leads, manages, on-boards and trains hundreds of women. Vanessa has a gift for bringing out the qualities deep inside the women she works with, qualities they did not even know existed. She is known for the ultimate in positive reinforcement, yet transparent coaching. Her genuine care for her clients and her level of professionalism keeps her customers coming back for more.
Vanessa is very involved in ministry and charity work during her free time. She also enjoys styling jewelry as well as spending time with her husband and daughters. Born and raised in the suburbs north of Detroit, Michigan, Vanessa graduated from Ferris State University in northern Michigan with a degree is science and radiology. She is also a retired dance teacher and choreographer, where she was able to be a positive role model to many young dancers on a daily basis.
Contact:
Vanessa Kromer
hello@vanessakromer.com
586.201.6956
www.vanessakromer.com