Internationally Acclaimed Reggae Music Artist Mikey General Releases New Lovers Rock Single
Wurl Rootz Band Comprising of Alpha School Musicians Announces Their Debut Single, You Move Me Baby Featuring Legendary and Internationally Acclaimed Singer/Songwriter Mikey General.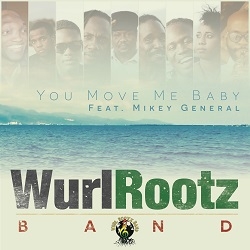 Kingston, Jamaica, November 11, 2016 --(
PR.com
)-- Wurl Rootz Band is thrilled to announce the release of their debut single, You Move Me Baby featuring Mikey General; available in most popular digital stores around the world such as iTunes, Amazon Music, Google Play, Spotify via TuneCore Music Distribution November 11, 2016.
Wurl Rootz members kept true to their heritage with the new single. The vibe is fresh and distinctive with an authentic reggae groove. Reggae music lovers from around the globe will have the option to select their favorite version of the single as there are four mixes inclusive in the release. The original mix, the instrumental mix, the video mix and the dub mix. It's a strictly positive vibe package with music that touches deep in the soul. The single is taken from the band's up and coming album, scheduled for release summer 2017.
Putting out a quality product was the driving force behind the project. As such, the initial track for the single was laid at the world renown, Tuff Gong Recording Studio by Oniel "Mondays" Smith. The band also worked with one of Jamaica's top industry talent, Mr. Grub Cooper of Stage Recording Studio who arranged and sung harmony vocals on the track with additional recordings done by Douglas "Doug" Flanigan. Courtland "Gizmo" White was also a key player in getting the sound quality up to industry standards. Mixing and balancing was done by Micah Henry of SC-21 Productions and the mastering was done at Anchor Recordings Studio, (one of Jamaica's premier studios) by Mario "Syantis" Lawrence.
The band has made the business decision to independently release their own work. They are managed by a former Universal Music Group Finance Manager with extensive knowledge in the business aspect of the music industry. The team works extremely well together fostering trust and respect all the way around.
The project was well received by pre-release sampling groups. Mikey General stated, "The dub mix tuff! We have a good product to run with." Another reviewer stated, "The video mix is a hit for sure!"
Contact
Wurl Rootz Band
Angela Smith
561-441-9858
http://www.wurlrootzband.com
Nicole Tayloy-Thompson
876-456-5508

Contact