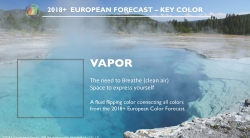 Albuquerque, NM, November 13, 2016 --(
PR.com
)-- Color Marketing Group, the leading international association of color design professionals, introduced the organizations' forecasted key colors today at the 2016 International Summit in Albuquerque, New Mexico.
The need to breathe, to recharge, and even escape, from an exhausting daily routine, brings Vapor, the Color Marketing Group 2018+ European Key Color, to the forefront of color direction.
There is a demand for reenergizing our bodies, our brains, and ourselves, and this metallic-enhanced pale blue offers an aesthetic of tranquility. The need for personalized spaces is of growing importance, and this pale blue offers a moment to enjoy the beauty of quietness.
Nature inspires us with calm, soft, natural blue shades. Blue is honest and trusting and the metallic finish of the color is the reflection of our surroundings and the need for peace. With the ability to appear wispy, soft, and discrete, Vapor lives up to its name, with its glistening finish. However, it can be just as ethereal as a solid color, suggesting its original qualities with a different level of sheen, be it matte or gloss.
From home appliances to custom surfaces, wall emulsions to home décor, it adds its unique presence of calm and offers a respite from our busy lives.
About Color Marketing Group
Color Marketing Group, founded in 1962, is a not‐for‐profit international association of color design experts who forecast color directions®. Color forecasting events are held throughout the world and the results from these events become part of the global color forecast which is revealed at the annual International Summit.