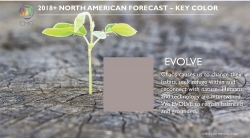 Albuquerque, NM, November 13, 2016 --(
PR.com
)-- Color Marketing Group, the leading international association of color design professionals, introduced the organizations' forecasted key colors today at the 2016 International Summit in Albuquerque, New Mexico. Balanced, subtle, natural, and an emerging direction for gray, Evolve, Color Marketing Group's 2018+ North American Key Color, is the embodiment of a warm neutral.
Evolve is a dependable hue, providing balance in the midst of chaos, and offering a moment of refuge and calm. Its visual organic appearance conjures a more mindful approach to living.
Its important role moves beyond its simple roots to that of influencer for other colors. Imbuing a contemplative mood in the forecast palette, the continuing importance of gray will be seen across the spectrum. Blues are muted, greens are dusted, and violet is quieted, offering a seamless coordination of colors.
Evolve will enhance both interior and exterior home, adding balance to spaces as varied as kitchen and bedroom. It also adds a stable, trusting color statement to commercial spaces. Textiles, and hard and soft surfaces, will carry the hue forward as both primary and background color. When effects such as high-gloss or metallics are added, it attains a technological edge, adding warmth to our handheld devices, cars and bikes, and small appliances.
With its myriad applications, it is futuristic, timeless, and most importantly, it creates an environment of color that allows for the addition of other hues while being sure enough to stand on its own.
About Color Marketing Group
Color Marketing Group, founded in 1962, is a not‐for‐profit international association of color design experts who forecast color directions®. Color forecasting events are held throughout the world and the results from these events become part of the global color forecast which is revealed at the annual International Summit.