Massive Recruitment Drive to Recruit 2,000+ Cabin Crew - Recruitment Days in Spain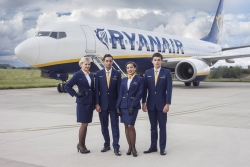 Dublin, Ireland, November 16, 2016 --(
PR.com
)-- Ryanair recently announced that it is on course to carry 200 million passengers by 2024, with plans to recruit an additional 2,000 Cabin Crew during 2017 to meet massive growth levels. Crewlink, an official Ryanair Training and Recruitment Partner, will be recruiting to fill these Cabin Crew positions throughout Europe in the coming weeks. No Experience is Required - with a life of travel, adventure and career opportunities on offer to successful candidates.
"Crewlink will be recruiting for 2,000+ Cabin Crew throughout Europe over the coming weeks. A highly competitive package is on offer to successful applicants including a 3 year employment contract to operate as Cabin Crew on Ryanair Aircraft, a €1,200 New Joiner's Allowance, Excellent Staff Travel Rates, Adventure and Amazing Career Opportunities with Europe's favourite airline, Ryanair." -Andrew Swan, General Manager
Crewlink will be holding Assessment Days in Spain on the following dates:
City Date
Bilbao 17/11/2016
Tenerife 21/11/2016
Las Palmas 23/11/2016
Palma de Mallorca 28/11/2016
Malaga 01/12/2016
Barcelona 02/12/2016
Seville 07/12/2016
Madrid 08/12/2016
Granada 08/12/2016
Valencia 17/12/2016
Barcelona 21/12/2016
Madrid 22/12/2016
Malaga 22/12/2016
Applicants should apply to attend an Assessment Day through their website: www.crewlink.ie
About Crewlink
Crewlink recruits, trains and employs Cabin Crew for the aviation industry, with over 5,000 crew members currently operating on Ryanair aircraft. Crewlink brings together a team of highly qualified and dedicated professionals with unrivalled knowledge and experience of the airline industry.
About Ryanair:
Ryanair is Europe's favourite airline, carrying 117m p.a. on more than 1,800 daily flights from 84 bases, connecting over 200 destinations in 33 countries on a fleet of over 350 Boeing 737 aircraft, with  a further 315 Boeing 737's on order, which will enable Ryanair to lower fares and grow traffic to 180m p.a. by FY24. Ryanair has a team of more than 11,500 highly skilled aviation professionals delivering Europe's No.1 on-time performance, and an industry leading 31 year safety record.
Contact: Crewlink Ireland Ltd, Tel: +353 1 895 2065 Email: recruit@crewlink.ie.
Contact
Crewlink
Peter O Neill
+353861699500
www.crewlink.ie

Contact