Barbara McGuire Honored as a Lifetime Member by Strathmore's Who's Who Worldwide Publication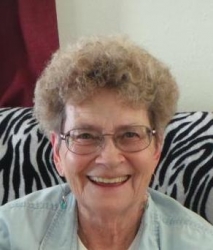 Riverton, WY, November 30, 2016 --(
PR.com
)-- Barbara McGuire of Riverton, Wyoming has been honored as a Lifetime Member by Strathmore's Who's Who Worldwide Edition for her outstanding contributions and achievements for over 50 years in the field of creative writing.
About Barbara McGuire
Ms. McGuire is an Author who writes books, poetry and short stories which are distributed in Wyoming and nationally. She has published numerous poems including "Touching But Not Touching," "Is Christmas for Cowboys," "The Autumn Season," "How to Clean Your House," "The Fortune Cookie," "The Billy Goat Who Thought He Was a Dog," "The Fifties Guys," "Presents for Mom" and "Waltzing on the Edge." Ms. McGuire has 1 book pending titled "But Not For Me." Her poetry is in public libraries throughout the U.S. including the Library of Congress, Yale, Stanford and Harvard College Libraries. She is also included in the National Library of Poetry. Ms. McGuire's poetry has been published by Noble House in New York and in the United Kingdom. She just had three poems published by Poetryfest.
Ms. McGuire has received numerous awards throughout her writing career and was honored with the President's Award for Literacy Excellence from the National Authors Registry in 2000, 2 silver bowl awards in 1999 from the International Library of Poetry, the Fifth Annual Writer's Digest International Self-Published Book Award in 2008 and the Top 2% of poetry published from the National Library of Poetry in 1995. She has also been listed in the International Top 100 in 2012 and 2013 by Cambridge Who's Who.
Born on September 14, 1938 in Colorado, Ms. McGuire attended college. In her spare time she enjoys crocheting, camping, sewing, painting, quilting, travel, family activities and researching family history which she has been doing since 1964.
About Strathmore's Who's Who Worldwide
Strathmore's Who's Who Worldwide is an international advertising, networking and publishing company based in Farmingdale, New York. They are proud to be able to satisfy their clients and continue to have repeat clientele due to their longevity and pride in their products and services. The Owners strive to connect business professionals to enhance their contact base and networking capabilities so they can get the acknowledgment and publicity within their industries and beyond. The Strathmore family has been providing these valuable services for over two decades. They target executives and professionals in all industries to be featured in their publication and on-line directory. Industries include business, law, education, healthcare and medicine, fine arts, IT, government, science, real estate, entertainment and many more accomplished fields. Professional profiles are listed in an annual hardcover journal and in a detailed, searchable database on the website www.strww.com.
Contact
Strathmore Worldwide
Susan Perrault
516-677-9696
www.strathmoreworldwide.com
Syndi Reibman

Contact