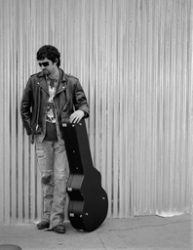 Manhattan, NY, January 28, 2008 --(
PR.com
)-- J Henry is back with his sophomore album CODE RED, digitally available on January 29, 2008 on all major digital service providers. J-Henry along with co-producer & guitarist Anthony Krizan (former guitarist for the '90s band the Spin Doctors) added a lot of texture and instrumentation to this CD.
"We tried some violins, pedal steel guitar and used lots of vintage recording equipment and Amps. I am very happy about the quality of CODE RED."
The first Americana single "I Love My NASCAR Weekends" came about from J Henry's experience touring the NASCAR circuit the past couple years. "We got to meet so many people and really understand the NASCAR fans and their incredible devotion to the sport" says Henry.
Songs like "I Want You to Stay" and "She is My Home" touch on the softer side of Henry and have been slated for a AAA radio release. "These ballads are much more melodic than some of my past songs and are very personal to me."
"Code Red", the title track is a straight down your throat rocker that J-Henry co- wrote with Anthony Kirzan. "We hit on this furious guitar lick and I wrote the lyrics in one day. Sometimes it happens like that. It has been by far one of the most popular live songs recently."
In celebration of this new release, J-Henry will be performing at his CODE RED CD Release party at New York's Crash Mansion on January 31 at 9:00 PM and Synclive.com (http://www.synclive.com/) will also be streaming the show live on their website.
Be sure to catch J-Henry live as he continues to tour both locally and nationally around the country.
###