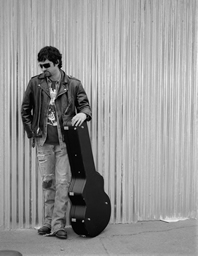 J-Henry grew up in New Jersey in a middle-class family alongside four brothers. Years of listening to his siblings' classic rock collections stirred a need to create his own Neil Young - Lynyrd Skynyrd - Led Zeppelin - inspired "rippin' rock."
By his late twenties Henry was venturing to local haunts to get a sense of how his own rootsy, material might sit with audiences. "Most people aren't really paying attention to the music, and it's fun to just go out and play acoustic by myself" says Henry. After playing at nightspots in northern New Jersey for a couple of years, Anthony Krizan, former guitarist for the '90s band the Spin Doctors, heard one of Henry's sets and invited him to record a demo at his Raritan, NJ, studio.
After recording three songs in three days with Krizan producing, Henry hit upon a sound he loved for its back-to-basics rock and its not insignificant element of nostalgia. "Remember how great Skynyrd and the Rolling Stones sounded when you saw them, just guitars into the amp?," he asked. "That's how we wanted the music to sound, like it was made 20 years ago." Henry began shopping his demo in 2004.
Word of his gift for crafting story - like, gritty guitar-based songs with common themes spread quickly, and by summer of 2005 J-HENRY was showcasing regularly in New York clubs, working out the details of a deal to perform at NASCAR events across the country, and heading back to the Raritan studio with Krizan to record his debut album, Another Long Day released in September 2005 and the first single, the straight-up rocker "Come On," was climbing the adult contemporary charts. The album spawned two top 10 Hot AC singles and led to great opening act opportunities including Sheryl Crow, Rascal Flatts, Jack Ingram, Charlie Daniels, David Lee Roth, Deep Purple and more.
J-Henry is back with CODE RED, an album Henry describes as "A bit more developed as far as the writing and recording. Anthony and I added a lot of texture and instrumentation to this CD. We tried some violins, pedal steel guitar and used lots of vintage recording equipment and Amps. I am very happy about the quality of Code Red."
The first Americana single "I Love My NASCAR Weekends" came about from J-Henry's experience touring the NASCAR circuit the past couple years. "We got to meet so many people and really understand the NASCAR fans and their incredible devotion to the sport" says Henry.
Songs like "I Want You to Stay" and "She is My Home" touch on the softer side of Henry and have been slated for a AAA radio release. "These ballads are much more melodic than some of my past songs and are very personal to me."
"Code Red", the title track is a straight down your throat rocker that J-Henry co-wrote with Anthony Kirzan. "We hit on this furious guitar lick and I wrote the lyrics in one day. Sometimes it happens like that. It has been by far one of the most popular live songs recently."
Closing out the album is the classic Led Zeppelin tune "Whole Lotta Love". We rarely play cover songs and one day in the studio, we were messing around between takes and started jamming to "Whole Lotta Love". "We quickly started rolling tape and we added this completely unique and screaming guitar melody to the main guitar part. This totally made the song feel fresh and we decided to record it. In fact, we liked it so much I decided to end the album with it. At a bunch of recent shows we ended the concerts with it and the fans went crazy. It is completely unexpected in comparison to the rest of my music. It was fun and challenging at the same time to try and take on such a classic, without straying too far from the original great parts that made it so popular."
Be sure to catch J-Henry live as he continues to tour both locally and nationally around the country. CODE RED will be available digitally on January 29, 2008 on all major digital service providers.