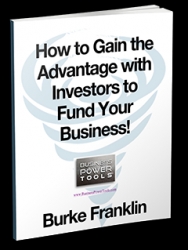 Santa Barbara, CA, November 29, 2016 --(
PR.com
)-- Burke Franklin joins Intelliversity faculty and contributes his eBook
How to Gain the Advantage with Investors to Fund your Business
to the Intelliversity free online library.
Burke Franklin is the originator of BizPlanBuilder® business planning software and the founder of Business Power Tools, the company behind a suite of successful business productivity software tools for start-up entrepreneurs, growth-oriented executives and management consultants.
"It's crucial that your innovations succeed in our world. This means that your business must be profitable and sustainable – without you losing control, your mind or your shirt!" said Burke Franklin.
Robert Steven Kramarz, Executive Director of Intelliversity, said, "We invited Burke to join the faculty to offer his extensive background in marketing, business management, and planning, essential for innovators looking to attract the right investors. Our members are often in the planning or early stages of launching businesses and Burke's suite of Business Power Tools and his experience are a timely combination."
Intelliversity is an online business funding academy, led by investors, for innovative business ideas and scientific research. It is dedicated to putting "The Fun Back in Funding" by pioneering unconventional financing methods that work. To this end, Intelliversity offers a free content library of eBooks and blogs about trends in alternative funding for innovators, provided by a growing faculty of recognized experts and authors. Companies that have followed Intelliversity guidance have obtained funding 100% of the time. Intelliversity is a non-profit 501(c)3 organization.