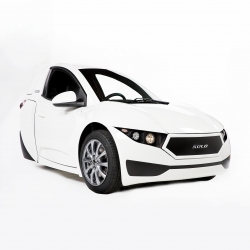 Vancouver, Canada, December 13, 2016 --(
PR.com
)-- Electra Meccanica Vehicles Corporation announced today that they will be honoring all deposits from individuals who have existing pre-orders with other vehicle manufacturers. Specifically, the company will honor all levels of customer deposits up to $1,000 USD with an equal value deposit for a new SOLO electric car upon final delivery of their vehicle.
Developed by Electra Meccanica, the SOLO is the first all-electric, single-seat vehicle designed to reduce congestion, air pollution and operating cost. It has a top speed of 80 miles per hour with a 100 mile range on a full charge that would cover most drivers' daily commuting needs, making SOLO the ideal supplementary vehicle that is fun to drive at an affordable price. Deposit transfers and pre-orders can be made by visiting the SOLO website at http://smallEV.com.
"With the recent financial and production challenges faced by some of our competitors, we've had some of their reservation holders ask us if they could transfer their deposits over to a SOLO because of either uncertainty about their vehicle ever being produced or they just didn't want to wait for years to get their car," said Jerry Kroll, CEO of Electra Meccanica. "We wanted let others know that we will accept those deposits and provide relief for reservation holders with a suitable vehicle replacement option."
About Electra Meccanica
Electra Meccanica Vehicles Corp. is a Canadian-based designer and manufacturer of the SOLO, an all-electric, single passenger vehicle developed to revolutionize the way people commute. Electra Meccanica combines founder Jerry Kroll's extensive background in the race car industry with Intermeccanica custom coach builders' 50 years of experience building high-quality, specialty vehicles. With the release of its first production vehicle in 2017, the Electra Meccanica SOLO, and the continuing establishment of a growing global dealer network, the company aims to put an electric vehicle in everyone's driveway by making ownership simple, fun and affordable.
More information on the SOLO and how to become an Electra Meccanica retailer can be found at http://electrameccanica.com. Interact with ElectraMeccanica at Facebook/EMVSolo, @ElectraMecc and view videos on YouTube at http://bit.ly/2bigEaF.
Safe Harbor Disclosure
Except for the statements of historical fact contained herein, the information presented in this news release constitutes "forward-looking statements" as such term is used in applicable United States and Canadian laws. These statements relate to analyses and other information that are based on forecasts of future results, estimates of amounts not yet determinable and assumptions of management. Any other statements that express or involve discussions with respect to predictions, expectations, beliefs, plans, projections, objectives, assumptions or future events or performance (often, but not always, using words or phrases such as "expects" or "does not expect", "is expected", "anticipates" or "does not anticipate", "plans, "estimates" or "intends", or stating that certain actions, events or results "may", "could", "would", "might" or "will" be taken, occur or be achieved) are not statements of historical fact and should be viewed as "forward-looking statements". Such forward looking statements involve known and unknown risks, uncertainties and other factors which may cause the actual results, performance or achievements of the Company to be materially different from any future results, performance or achievements expressed or implied by such forward-looking statements. Such risks and other factors include, among others, the actual results of activities, variations in the underlying assumptions associated with the estimation of activities, the availability of capital to fund programs and the resulting dilution caused by the raising of capital through the sale of shares, accidents, labor disputes and other risks. Although the Company has attempted to identify important factors that could cause actual actions, events or results to differ materially from those described in forward-looking statements, there may be other factors that cause actions, events or results not to be as anticipated, estimated or intended. There can be no assurance that such statements will prove to be accurate as actual results and future events could differ materially from those anticipated in such statements. Accordingly, readers should not place undue reliance on forward-looking statements contained in this news release and in any document referred to in this news release. The Company assumes no obligation to update or supplement any forward-looking statements whether as a result of new information, future events or otherwise. This news release shall not constitute an offer to sell or the solicitation of an offer to buy securities.
Media Contact
Jeff Holland
Electra Meccanica Vehicle Corp.
Head of Media Relations
Tel. 562-640-1758
Email: JeffHolland@electrameccanica.com
Alexia Helgason
Director, Investor Relations
Tel. 604-728-4407
Email: alexia@electrameccanica.com
Electra Meccanica Vehicles Corp.
102 East First Avenue
Vancouver, BC Canada V5T 1A4