Super Sexy Custom Couture T-shirts at POOL Trade Show in Las Vegas
Super Sexy T-shirts will be on display at POOL Tradeshow at Mandalay Bay Convention Center in Las Vegas, from Feb. 20-22 at the Charm School Co-op Booth, Private Arena P5.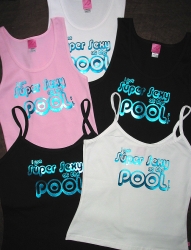 New York, NY, February 19, 2006 --(
PR.com
)-- Super Sexy makes urban-esque glam girly tees and tanks with a hint of Rock n' Roll. Infused with original artwork and a little bit of bling, that's Super Sexy. Designed by artist Anna Pereira, designs are created with airbrush work, free hand paint strokes and stencils and then duplicated through a process of high end multi layered screen printing. Patterns are applied with screen paint, foils, velvet and then embellished with hand set Swarovski crystals.
Originally a hand painted line at very high retail price points, Super Sexy was a made-to-order couture line, featuring one-of-a-kind labor intensive and hand painted T-shirts. Recognizing the need to reach a wider demographic of customers and wanting to make her T-shirts more affordable, Pereira adopted a method that would allow her "wearable art" to be re-produced in mass quantity by method of screen printing with high quality screen paint, foil and velvet onto soft 100% premium cotton T-shirts of various styles. Short sleeve vintage cotton crew neck tees, boy beater tanks, spaghetti strap tunics, and boat neck three quarter inch sleeve T-shirts are available with Super Sexy designs. Designs are inspired by the urban, edgy, confident, fashion forward and Super Sexy female. Images that appear on this season's T-shirts are scrolls, crowns, whimsical squiggles and crosses. Shirts are made in the USA and are machine washable. They retain their appearance after several washes.
Super Sexy
will be giving out tank tops with turquoise foil print that reads "I Got Super Sexy at the Pool '06." Super Sexy will be on display at the Charm School Co-op Booth, private Arena P5 at the Mandalay Bay Convention Center in Las Vegas. Dates are February 20-22, 2006. Contact Angelique Groh, Angelique@charmschoolcie.com, Tel: 323-363-9338.
###
Contact
Allison Dawn Public Relations
Allison Kugel
516-942-0264
www.AllisonDawnPR.com
www.MySuperSexy.com

Contact