TUN Travel Offers 1 Month Entry Visa for US Citizens to Visit Vietnam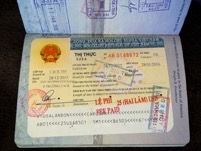 Hanoi, Vietnam, December 15, 2016 --(
PR.com
)-- According to TUN Travel (partner with Vietnam Immigration Department), on the 15th of December, 2016 the Immigration Department of Vietnam will change the visa policy for United States that anyone who are US citizens or American passport holders can visit Vietnam at varied kinds of visa. Along with the current 1-year multiple entry visa, you can enter with other types such as: 1-month single, 1-month multiple, 3-month single, 3-month multiple and 6-month multiple entry visas on arrival.
This information is a valuable gift in the context of the ending year. It not only gets US tourists excited about traveling to Vietnam but also creates a new chapter in the development of tourism. Previously, due to regulatory barriers on visas, the number of US tourists decreased dramatically, so that the revenue from these services like visas, tours, hotels and entertainment as well as commercial activities has been affected sharply. Some US visitors come to Vietnam only during a few days on the purpose of business or traveling and have no idea of returning, a 1-year multiple visa is really inconvenient and expensive and it has caused several US people to change their mind and plans to travel to Vietnam.
Now, the hard time is gone so visa/travel agencies have to add further knowledge and synthesize detailed information so that US tourists can easily follow. To get a
Vietnam Visa
for traveling or business, you have two (2) options: Apply through the Vietnam Embassy/Consulate in your country or apply for a visa on arrival (VOA) through a Vietnamese International Travel Company. So, what is difference and which is the best?
Applying for a visa through the Embassies/Consulates is the traditional method, you contact the Embassy staff to get an appointment and drive to the nearest Embassy. When coming, you have to prepare all documents required by Embassy and leave your original passport for stamping. The processing time is quite important. Normally, a visa via the Embassy will take from 5-7 working days, some cases will be more. Thus, the question to be asked here: Where is your nearest Embassy? How far is this from your location to the nearest? In the United States, there is only one Embassy in Washington D.C and several General Consulates in New York, San Francisco, etc.
The best and common way now for all tourists is the Visa on arrival (VOA), it means that you can get a visa at arrival airports. In Vietnam, there are reliable international travel companies that help you to deal with this matter like: Hotels-in-Vietnam/visa service of TUN Travel. By this method, you access their website, read the very clear instructions and apply for an approval letter to finish the process. You can also view pricing and compare among websites to make a final decision. When you finish your payment, you only have to wait 1 – 2 working-days (1 working-hour for urgent service) to receive your visa approval letter issued by the Immigration Department of Vietnam and it is automatically sent to your email address. In case you are too busy, the visa team can also help you print the document and send it to you; you can also call them via the hotline for further information. When you arrive at the Vietnam airport and submit your visa approval letter and pay the stamping fee, you have your passport stamped making this very convenient and easy.
There are two ways of applying for a Vietnam visa, determining the best way belongs to your needs and thoughts. TUN Travel loves providing the best solutions for your trips. The gate is open; Vietnam is welcoming you. Contact TUN Travel for further information and to receive the best service. Everything is available to support you.
Contact
TUN Travel
Do Ngoc
+84-4-39230898
http://www.hotels-in-vietnam.com

Contact