Robert H. Anderson Recognized as a Professional of the Year by Strathmore's Who's Who Worldwide Publication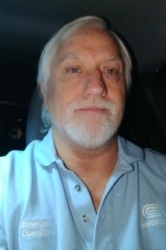 Poughkeepsie, NY, December 30, 2016 --(
PR.com
)-- Robert H. Anderson of Poughkeepsie, New York has been recognized as a Professional of the Year for 2016 by Strathmore's Who's Who Worldwide for his outstanding contributions and achievements for over 34 years in the field of energy.
About Robert H. Anderson
Mr. Anderson is a Project Specialist at Consolidated Edison (Con Edison), which is an energy company providing gas, steam and electric power systems in New York for more than 190 years. Mr. Anderson manages the corporate fleet of emergency command vehicles and mobile emergency generators. He helped to establish a corporate logistical emergency response organization within Con Edison in the mid 1990's based upon the national standard for Incident Command System (ICS), and continues to be an integral part of its success. Along with performing logistical response for emergency situations in the field, Mr. Anderson is involved with developing training exercises and drills, as well as conducting the training for upper management for ICS staffing.
Over his 30 plus years at Con Edison, Mr. Anderson has held varying positions which included manager and Master Rigger for the Cranes and Rigging operations, manager of the corporate transportation fleet, and manager of the central distribution warehouse.
Mr. Anderson obtained a B.A. in American Studies at SUNY Oswego in 1978. Following graduation from Oswego, he entered the United States Marine Corps as an officer and spent 5 years on active duty. During that time he held a variety of logistical assignments state side as well as overseas. Upon leaving the Marine Corps, he joined Con Edison but also remained in the Marine Corps Reserve for another 25 years assigned to increasingly demanding and challenging positions. In his spare time he enjoys riding Harley Davidson motorcycles.
Mr. Anderson states, "Regardless of who you are and what you do, it is your life experiences that will guide you through the chaos; being in control of your emotions you are better prepared to respond and more apt to succeed."
For further information, contact www.coned.com.
About Strathmore's Who's Who Worldwide
Strathmore's Who's Who Worldwide is an international advertising, networking and publishing company based in Farmingdale, New York. They are proud to be able to satisfy their clients and continue to have repeat clientele due to their longevity and pride in their products and services. The Owners strive to connect business professionals to enhance their contact base and networking capabilities so they can get the acknowledgment and publicity within their industries and beyond. The Strathmore family has been providing these valuable services for over two decades. They target executives and professionals in all industries to be featured in their publication and on-line directory. Industries include business, law, education, healthcare and medicine, fine arts, IT, government, science, real estate, entertainment and many more accomplished fields. Professional profiles are listed in an annual hardcover journal and in a detailed, searchable database on the website www.strww.com.
Contact
Strathmore Worldwide
Susan Perrault
516-677-9696
www.strathmoreworldwide.com
Syndi Reibman

Contact