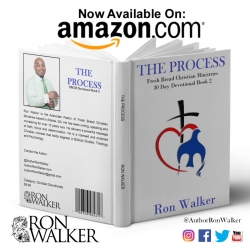 Atlanta, GA, January 03, 2017 --(
PR.com
)-- The Process: Fresh Bread Christian Ministries 30 Day Devotional
An enriched blend of psychology, spirituality and motivation that will inspire any reader to dig deeper and believe that more is possible.
The Process:
Fresh Bread Christian Ministries 30 Day Devotional
By: Ron Walker
ISBN: 978-1541279070
Paperback $9.99
E-Book $5.99
Ask for it at your favorite bookstore or order online wherever you buy books.
The Process is a 30 Day Devotional from Fresh Bread Christian Ministries' Associate Pastor Ron Walker. This easy to read devotional focuses on the development that many Christians must endure to become who they are meant to be. It is sure to add something to the character and Spirit of every believer that reads it. Its aim is to help Christians at every level grow as we go through The Process of life.
Ron Walker is the Associate Pastor of Fresh Bread Christian Ministries based in Atlanta, GA. He has been writing, speaking and ministering for over 15 years now. He delivers a powerful message of faith, focus and determination. He is a licensed and ordained Christian minister that holds degrees in Biblical Studies, Theology and Psychology. He has authored such books as, "I Almost Gave Up," "On Track, to the Kingdom," "Your Best Day Today," and recorded such motivational CD's as "One Day at a Time," "Passion 101," and "Dollar and A Dream: Succeed or Die Trying."
For more information, contact:
AuthorRonWalker@Gmail.com
AuthorRonWalker.com