America's Registry of Outstanding Professionals Announces the Selection of Pastor Raymond Brenner as a Professional of the Year 2016 and a Lifetime VIP
Lifetime member, Pastor Raymond Brenner of Jasper, Indiana has been selected as Professional of the Year 2016 and a lifetime VIP by America's Registry of Outstanding Professionals for his highly regarded vocation as a Roman Catholic priest.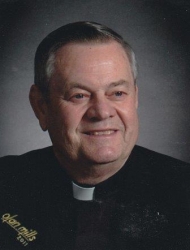 Farmingdale, NY, January 06, 2017 --(
PR.com
)-- Pastor Raymond Brenner was born in Evansville, Indiana. He earned his B.A. at St. Meinrad College and his M.Div. at St. Meinrad Seminary and School of Theology He was ordained as a priest of the Roman Catholic Church in 1969. He was a Deacon of the Nativity Church in Indianapolis, Indiana in 1968 and Associate Pastor of St. John's Church, Loogootee, Indiana, 1969-74. From there, he was Associate Pastor of Saints Peter and Paul Church, Haubstadt, Indiana, 1974-78, Pastor of Saint Mary's Church, Sullivan, Indiana, 1978-86, Pastor of St. Joan of Arc Church, Jasonville, Indiana, 1982-86, Pastor of Resurrection Church, Evansville, Indiana, 1986-02. Since then, he has been Pastor of Saint Joseph Church in Jasper, Indiana. Pastor Brenner's expertise lies in marriage counseling, training in financial management and support groups for divorcees.
Pastor Brenner has numerous affiliations including: Member, Catholic Charities Board, Evansville, 1972-75; Vice President, Ministerial Association, Sullivan, Indiana, 1985-86; President, Council of Priests, Evansville, Indiana, 1989; Diocesan Chaplain, Saint Vincent de Paul Society, Evansville, Indiana, 1990-94;Member, Wabash Valley Human Services, Vincennes, Indiana, 19682-86; Sullivan Housing Authority, 1983-85; Federal Emergency Management Agency, Sullivan, Indiana, 1984-86; Emergency Food Bank, Sullivan, Indiana, 1984-86; Spiritual Advisor, Evansville Catholic Cursillo, 1994 to the present; Chaplain, German Township Volunteer Fire Department, 1998-2002; Community Marriage Builders, 1997-2006; Member Optimists (Chaplain Evansville Westside Club, 1990-2002, District Chaplain, Indiana South, 2006-07); Elks; Order of Moose; Optimist Club of Jasper; Member, Knights of Columbus.
The VIP and Professional of the Year memberships in America's Registry are of particular significance because inclusion is based on a number of factors, not the least of which is the member's accomplishments in their chosen field. In the case of Pastor Raymond Brenner, it is also based on the positive influence that he has had on his parishioners and the sense of satisfaction that comes with knowing that he has touched them in such a spiritual way. America's Registry is proud to honor him.
Contact
America's Registry of Outstanding Professionals
Bea Hanley
516-997-2525
www.americasregistry.com

Contact