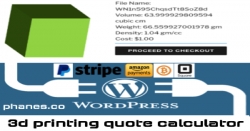 Albuquerque, NM, January 09, 2017 --(
PR.com
)-- The Wohlers 2016 Report showed that 3D Printing became a $1 billion dollar industry in 2015 with yearly growth potential hovering above 25% the last three years. Moreover, the report showed promising increases in 3D printer sales due to the items becoming more affordable. Early adopters are seeing exponential growth in their business areas, however, the support industry is not there to provide business related solutions. Phanes wants to change that with their quoting plugin for wordpress. With the 3D Printing Calculator installed, businesses can now enable their customers and potential customers to upload a 3D Printing file and get instant quotes with the option to through Amazon Payments, Paypal, or Stripe.
"We built a system that allows a 3D Printing Services company and freelancer to calculate 3d printing files for their volume, instantly provide a price quote, and allow the customer to instantly pay through their website," says Jon Acosto, founder and managing member of Abacab Ltd. "This will help them to close sales because customers aren't waiting on quotes and can use their credit or debit card to make a purchase immediately."
The future of 3D printing is clear. It is a growing business area, and those who have invested now have a potential to become future brands if they can grow a trusting customer base. Products like the 3D calculator will help to provide the type of consistent and reliable quotes that instill trust in both the company and industry. With prices starting at $9.95, it's a good model for both the Etsy printer and the small-to-medium sized shops.
For more information, visit:
https://www.phanes.co
Abacab Ltd. is an E-Commerce Platform company comprised of niche digital properties in technology, such as 3DPrintNerd & CoolNerd – Comparison Shopping Engines, Boltron – Technogeek E-Commerce Marketplace, MyCoolNerd – A Help Desk Platform, Abacab TV – A Video Syndication Platform, and Phanes – A platform development division.