Lakefront Living Realty, LLC Announces 10th Annual Lakefront Property Buyers Seminar
Dreaming of purchasing your dream lakefront property? Learn why buying a lake home is different than any other real estate at the 10th Annual "Keys to Buying Lakefront Property" Seminar in Mansfield, MA on March 25, 2017 and you may leave with a free kayak.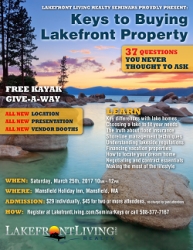 Mansfield, MA, January 31, 2017 --(
PR.com
)-- For many home buyers, the chance to own a home on a lake is a once-in-a-lifetime opportunity. To help educate buyers so they can make that big decision an educated and informed one, Lakefront Living Realty, LLC, a Mansfield, MA-based brokerage that specializes in properties that are directly on lakes, is hosting its popular "Keys to Buying Lakefront Property" on March 19, 2016.
"Our main goal of the seminar is to keep buyers from making a mistake on a lake. Over the years, we have learned that purchasing a lakefront home is different than any other real estate," said Scott Freerksen, aka "The Lake Guy" and owner of Lakefront Living Realty, a Broker that represents both buyers and sellers of lakefront properties. "This seminar provides the vital knowledge needed to ask all the right questions, at the right time."
Unlike most homes, lakefront property has its own set of criteria that buyers need to be aware of. "Lakefront buyers need to realize that they are not just buying a home, they are buying a lake," said Freerksen, "We receive weekly calls from lakefront buyers describing a number of issues that could cause problems with their property purchase."
Freerksen and his team, who focus on New England lakefront property, pulled from their 14 years' experience selling waterfront homes and created a 37-point checklist for lakefront property buyers. Answering "yes" to any one of the questions is a red flag that needs to be addressed prior to making an offer on the home. "For example, the first question on our list is about Flood Insurance," says Freerksen, "just because the previous owner did not have flood insurance, it is not an indication of future requirements. FEMA is constantly changing their maps and this could mean an additional $2,000 to $10,000 per year for the new homeowner."
The event, which will be held at The Mansfield Holiday Inn in Mansfield, Massachusetts, runs from 10:00 AM to 12:00 PM and is close to outstanding amenities including Patriot Place (featuring Bass Pro Shops), the Xfinity Center and the Wrentham Outlets. In addition, several "lake related" vendors (boating, docks, financing, etc.) will be on hand to meet with buyers.
Topics to be discussed in the seminar include:
* Key differences with lake homes - 37 questions you never thought to ask
* Choosing a lake to fit your needs - defining your preferred lifestyle
* The truth about flood insurance – understand the rules and your rights
* Shoreline management techniques – protecting your recreational activities
* Understanding lakeside regulations – common zoning guidelines
* Financing vacation properties – the top 5 tips
* How to locate your dream home – be the first to know about new listings
* Negotiating and contract essentials – proven techniques to avoid offer mistakes
* Making the most of the lifestyle – why you'll never not live on a lake again
Said an attendee of last year's seminar, "We purchased other homes in the past, but we had no idea there were so many differences when buying lakefront. We didn't know what we didn't know! In just two hours, we saved ourselves from making some huge mistakes."
Admission to the seminar is $29 and seating is limited to the first 100 people. All attendees will be entered into a drawing for a free kayak showcased at the seminar ($600 value). The winner will take it home the same day. To register or learn more from the seminar FAQ's, visit
http://www.lakefrontliving.com/ma/seminar-keys
or call 508-377-7167.
About Lakefront Living Realty, LLC
Based in Mansfield, Massachusetts, Lakefront Living Realty, LLC is a full service real estate brokerage specializing solely on the purchase and sale of direct lakefront property in New England. Owner Scott Freerksen "The Lake Guy," a Real Estate Broker and Realtor, founded Lakefrontliving.com in 2003 as way to passionately unite buyers and sellers of direct New England lakefront property. For complete information, visit LakefrontLiving.com, call Scott at 508-377-7167 or e-mail at info@lakefrontliving.com.
Contact
Lakefront Living International, LLC
Scott Freerksen
844-695-2537
www.LakefrontLiving.com

Contact