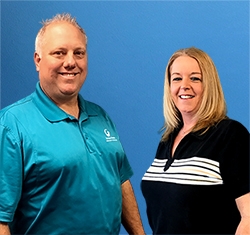 Jacksonville, FL, January 31, 2017 --(
PR.com
)-- Bill Dorazio has served as Vice President of Sales for
The Grimes Companies
since March 2014. As VP of Sales, Dorazio is chiefly responsible for Grimes' sales functions throughout the Southeast. Dorazio just began his second two-year term as President of The Transportation Club of Jacksonville (TCJAX) in January 2017. Dixie Moody has been with Grimes for almost 10 years and as the Transportation Office Administrator, Moody is directly responsible for all administration matters concerning the trucking operation, which includes driver settlements, invoicing for the department and customer relations.
Bill Dorazio VP of Sales & President of TCJAX
2016 was a very profitable year for The Grimes Companies, due in large part to Dorazio's efforts as VP of Sales. Dorazio believes "the logistics industry is the backbone of Jacksonville." He and his sales team look forward to continuing to increase sales and revenue at the Jacksonville-based 3PL logistics company.
Dorazio is also a member of the Logistics Advisory Board for Feeding Northeast Florida. A supporter of education, Dorazio served on the Westside High School Logistics Advisory Council, helping students develop skills that will help them excel in the logistics and transportation industry.
Dixie Moody Second VP of TCJAX
In addition to her role at The Grimes Companies, Moody was elected to Second Vice President of The Transportation Club of Jacksonville (TCJAX) in January 2017. Moody has been active with TCJAX since 2011. Moody stated, "I love representing The Grimes Companies as a member and board member of The Transportation Club of Jacksonville, I have enjoyed my position of Secretary with TCJAX for the last 6 years, I have met new people in our industry, made some life long friends, and had lots of fun, whether it was a truck rodeo, golf outing, or a monthly luncheon, all while connecting, networking, and doing business with likeminded people in the Transportation Industry. I look forward to serving as 2nd Vice President and supporting TCJAX and the 2017 board in a different capacity in my new role."