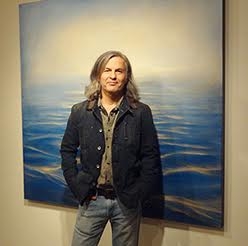 Houston, TX, February 03, 2017 --(
PR.com
)-- In his latest solo offering "Evocations" on view at Laura Rathe Fine Art, March 9, through April 3, 2017, Austin Texas based artist Roi James continues an intuitive journey from his earlier figurative works into the conceptual constructions and meditative abstracts he is exploring today. As he continually refines his technique, the diversity of his styles and the fluency reveal an innate ability often described as a gift, but which is truly the result of a deep conviction and dedication towards his creative expression. The artist describes his creative experience as one of surrender resulting in works that document his internal spirituality as he continues to explore the chasm of self realization.
At an early age James became aware that he had a gift for drawing and like so many artists was first attracted to the obvious accomplishment, romance, and drama he found residing in the works of Da Vinci, Caravaggio, Rembrandt, and artists of the Renaissance. James mastered these styles on his way to a more profound satisfaction he could only find by exploring the unknown. Piet Mondrian is quoted as saying, "I construct lines and color combinations on a flat surface, in order to express general beauty with the utmost awareness. I want to come as close as possible to the truth and abstract everything from that, until I reach the foundation of things…" Roi James reflects a similar quest to seek out the essence of his world and deliver us to ours as well.
Grounded in the studied discipline of his quest for classic perfection in earlier years, James takes his audience on an adventure into uncharted abstraction and deeper waters where he joins classic motif and fluid abstraction into a unique and singular space. By abandoning the restrictions of learned perimeters and conscious direction, the artist has become acutely aware of a higher spirituality, and from this journey the artist remarks, "I have encountered myself."