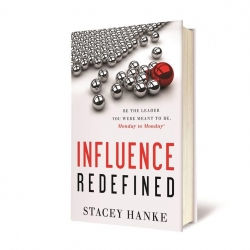 Chicago, IL, February 07, 2017 --(
PR.com
)-- This week, the world watched as professionals like Matt Ryan and Tom Brady, put their skills into play. These weren't skills they picked up a week ago. These skills were developed over years and practiced day after day. True influence isn't given. It can't be bought. It's earned, and it doesn't come easy. Every day, week in and week out, from Monday to Monday®, a person who wants to be a leader with authentic influence needs to work consistently on the necessary skills.
Becoming an influential leader doesn't just happen because you win a couple games. The mark of a true leader is one who knows that he or she is never "there": the capability to influence a team, to take them to the top, is an ever-changing mark that has to be diligently pursued. But how?
Stacey Hanke's new book "Influence Redefined" makes the claim that many leaders might not be as influential as they think they are, or as they could be. Her Influence Model is an actionable step-by-step system that will show anyone in a leadership role how to develop their influence through a results-based style, so that interaction with them will lead to action, now and in the future.
"Anyone interested in improving their ability to influence others should read this book. Stacey Hanke takes years of research and transforms it into a through-provoking guide that is fun to read and easy to apply." ~ Mike Dufrene, Director of Customer Financial Services, Coca-Cola
A leader can never assume that they have true influence over the people they are meant to be directing. In fact, that assumption is what leads to their demise, with self-sabotaging behavior. "Influence Redefined" can be the catalyst that puts an end to empty leadership with false tactics and measurements, leading individuals instead to a place of true influence.
Be the Leader You Were Meant to Be, Monday to Monday®
About Stacey Hanke Inc.
Whether you need a mentor, a keynote speaker, an online trainer or a workshop leader, the team at Stacey Hanke Inc. have a combined experience of over 100 years in helping to equip leaders with the skills and authenticity needed to have true influence within their organizations. Commitment to lifelong learning includes consistent and ongoing training in communication, Monday to Monday®.
For more information, contact: Stacey 312.955.0380 or Stacey@StaceyHankeInc.com