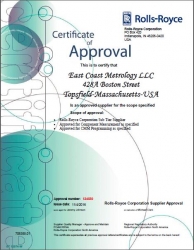 Topsfield, MA, February 14, 2017 --(
PR.com
)-- ECM - Global Measurement Solutions (East Coast Metrology, LLC) has officially been awarded approved supplier status for Rolls-Royce Corporation. The Certificate Scope of Approval includes: Rolls-Royce Corporation Sub-Tier, Component Measurement, and CMM Programming Supplier categories. This award confirms that East Coast Metrology, LLC has completed the rigorous testing needed to assure Rolls-Royce Corporation that Quality Assurance Controls meet the general requirements of Rolls-Royce, as specified in RR9000:SABRe. This agreement between Rolls-Royce and ECM validates that all quality control systems and management structures sustain accordance to the requirements put forth by Rolls-Royce Corporation.
ECM already maintains an ISO/IEC 17025 Accredited Laboratory certification which assures customers that their systems are calibrated using standards traceable to a National Metrological Institute (NMI). ECM was awarded this accreditation in September of 2014 and has since renewed this certificate as of October 2016. ECM is one of the first non-OEM laboratories in the country to offer the ISO/IEC 17025 accredited calibration for large scale measurement instruments. This accreditation along with the newly acquired Rolls-Royce certification, demonstrates the level of quality standards that both ECM and their customers demand. "We stand by our services and our level of quality 100%. We work hard to obtain these certificates so our customers can feel confident not only in our ability to perform the job, but to perform the job at the highest quality standard in the industry," states Lucas Prato, Director of Quality for ECM.
To learn about ECM's full suite of metrology service offerings, please visit EastCoastMetrology.com.
About ECM - Global Measurement Solutions (ECM)
ECM - Global Measurement Solutions specializes in industrial measurement services and training; equipment calibration and rental; 3D laser scanning; metrology automation and systems integration. ECM's state-of-the-art facility houses an ISO/IEC 17025:2005 A2LA Accredited Laboratory. ECM combines cutting edge technology using laser trackers, laser scanners, portable arms, and CMMs with professional competency. The highly-trained engineering team at ECM consistently delivers quality service solutions that are innovative and industry proven, giving customers a competitive edge.