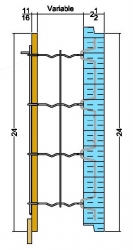 Richmond, VA, February 09, 2017 --(
PR.com
)-- Polycrete, the leader in commercial insulated concrete forms technology, has introduced the Big Block V1 Series -- the fast and effective solution for cast in place concrete walls that require insulation on one side and finished concrete on the other.
"We needed a better method for building elevator shafts, stairwells and basements," said PolycreteUSA president Bruce Anderson. "Turns out it's also great for garages, retail stores and entire warehouses."
Polycrete's V1 Series
insulated concrete form (ICF) has permanent rigid foam insulation on one side and a re-usable plywood forming panel on the other.
V1 Series includes all the features the industry admires in the standard Big Block ICF: Great strength, 16 SQFT per block, metal cross tie system, custom core widths from 5-5/8" to 24".
Panels come 12", 18" and 24" high so V1 conforms to the Polycrete's famous Split Block design. That means specifiers can mix and match panel heights on the same block. Works perfectly with Polycrete's R-Stak enhanced insulation walls, too.
Best of all, V1 Series allows for seamless integration with the XpressWall program, so it can be incorporated into all Polycrete pre-cut ICF wall projects.
"Everyone loves XpressWall," Anderson says. "We make all the cuts in the factory and deliver a fully precut kit to the jobsite, so the contractor does not have to cut any forms on site. This saves a huge amount of time and eliminates nearly all ICF waste. Now, the V1 can be a part of that whole program."
V1's Polycrete EPS panel is the same one the company uses on the Standard and Premium Big Block: 2.5" of steel-reinforced Type II expanded polystyrene insulation with horizontal galvanized steel fastening strips. Assembled with forty-eight 6 gauge steel wire cross ties, the EPS panel is ready to accept the strippable plywood forming panels.
A 24" galvanized steel rod slips easily through the ends of each cross tie assembly and locks down the ULTRAFORM panel in seconds. After the concrete sets, workers pull out the rod and strip the ULTRAFORM panel just like any other traditional wood form.
Anderson says, "This is the only one-sided ICF that actually works reliably in the field. Contractors find that screws do not hold securely enough in plastic ICF cross ties to prevent blow outs."
Polycrete's positive rod and loop system locks down the wood panel in the blink of an eye and withstands over 1,600 lbs / sqft of lateral pressure during the pour.
Since the wood forming panels a can be re-used, insulation panels, plywood panels and locking rods can all be purchased separately.
PolycreteUSA focuses on simplifying energy efficient construction that stands up to Mother Nature and making the designer and builder's job easier. The company has architectural details available for download in PDF or DXF formats from their website, PolycreteUSA.com.
For designers and builders in need of an insulated concrete form that features an easily strippable, pre-coated plywood form on one side, Big Block V1 Series is the answer.