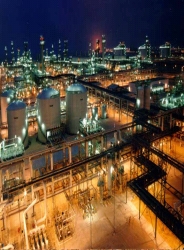 Southampton, United Kingdom, February 01, 2008 --(
PR.com
)-- Corrotherm International have finalized an order with Qatar Petroleum for over 200 tonnes of Inconel 625 welded and seamless pipe for its Qatargas Phase 3 + 4 Offshore facilities project.
The order is for seamless and welded pipe from 6" up to 24" dia in solid Inconel 625 and is the largest single order for Inconel 625 in the companys 15 year history.
It was only in April 2006 that Qatari Crown Prince Sheikh Tamim Bin Hamad Al Thani laid the foundation stone for the Qatargas 3 and Qatargas 4 projects. This marked the beginning of the execution phase for two of the world's largest LNG developments led by Qatar Petroleum, ConocoPhillips and Shell, which is moving forward at an unprecedented pace.
Corrotherm specialize in the supply of heat and corrosion resistant metals and are the exclusive distributor of Special Metals Corp in the Middle East.
Corrotherm have offices in UK, UAE, Saudi Arabia and Iran, and have recently established the first nickel alloy stock to be based in the Middle East. The new stocks will enable the company to support their customers in the Region and puts the material in the market, where customer needs it.
"This order demonstrates the increasing use of exotic materials by the Middle Eastern producers over the last 2 years. The client has opted for the better performance of solid nickel alloy over clad in a critcal area," said Ms Jan Ward Managing Director.
###