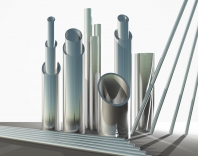 Corrotherm International Ltd is a UK based company who specialises in supplying difficult markets with high alloy heat and corrosion resistant metals that are used on the fabrication of process equipment in the oil, gas, petrochemical and power industries . Their product range includes nickel alloys, duplex and superduplex, copper nickel and titanium in ppes, fittings, flanges, plates, bars and weld consumables.
The company has been established 22 years and employs highly skilled staff with qualifications covering metallurgy, welding technology, piping engineering , marine and aerospace engineering and manufacturing technology.
The company specialises in supplying to specific customer requirements, especially multi item and mutli metal packages for maintenance and projects,and are able to help customers engineer difficult and awkward requirements in addition to ensuring that the materials are packed suitably , shipped safetly and correctly documented.

Corrotherm has offices in UK , UAE, Saudi Arabia ,South Africa , India , Australia, China and S Korea .The company is staffed by highly experienced technical, commercial and logistics personnel.

The supply range is supported by Special Metals Corp. the worlds largest and most diversified producer of high performance nickel based alloys , whose trade names include Monel ,Inconel, Incolcoy . Its specialty metals are used in some of the worlds most technically demanding industries and applications, including aerospace, power generation, chemical processing, oil exploration and medical/dental services.

With manufacturing bases in both USA and UK and over 15 affiliated companies worldwide we can supply over 110 different alloys to customers in every major industrial process that has a use for high performance nickel based alloys.

Corrotherm have an active seminar programme , conducting seminars for technicians in the oil , gas and petrochemical industry across the region . We are working with companies such as Saudi Aramco in Saudi Arabia , Abu Dhabi National Oil Co in UAE, Qatar Petroleum Co in Qatar and many others on developing information exchange events to support our customers efforts to increase productivity and efficiency in their plants.
Status

Private Company

Founded

1992

# Employees

33