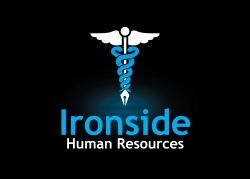 Dallas, TX, February 15, 2017 --(
PR.com
)-- Ironside Human Resources, a leading staffing agency in the healthcare industry, announced today they have won
Inavero's Best of Staffing® Client Award
for providing superior service to their clients. Presented in partnership with CareerBuilder, Inavero's Best of Staffing Client winners have proven to be industry leaders in service quality based completely on the ratings given to them by their clients. On average, clients of winning agencies are 2.5 times more likely to be completely satisfied with services provided compared to those working with non-winning agencies.
Focused on helping hospitals and clinics in the United State find the right people for their job openings, Ironside Human Resources received satisfaction scores of 9 or 10 out of 10 from 71% of their clients, significantly higher than the industry's average of 29%. Award winners make up less than 2% of all staffing agencies in the U.S. and Canada who earned the Best of Staffing Award for service excellence.
"Ironside Human Resources works very hard to exceed client expectations and deliver results at a cost savings to our clients and being ranked amongst the best is a good measure of accomplishing this goal," said Doug Carter, CEO at Ironside Human Resources.
"Staffing firms are giving top companies a competitive advantage as they search for talent in North America," said Inavero's CEO Eric Gregg. "The 2017 Best of Staffing winners have achieved exceptionally high levels of satisfaction and I'm proud to feature them on BestofStaffing.com."
About Ironside Human Resources
Ironside Human Resources is a national healthcare search firm that specializes in permanent placement of healthcare professionals. Ironside Human Resources recently celebrated its 5-year anniversary and has 35 years of combined recruiting experience.
About Inavero
Inavero
administers more staffing agency client and talent satisfaction surveys than any other firm in the world. Inavero's team reports on over 1.2 million satisfaction surveys from staffing agency clients and talent each year, and the company serves as the American Staffing Association's exclusive service quality partner.
About Inavero's Best of Staffing
Inavero's
Best of Staffing® Award
is the only award in the U.S. and Canada that recognizes staffing agencies that have proven superior service quality based completely on the ratings given to them by their clients and job candidates. Award winners are showcased by city and area of expertise on BestofStaffing.com – an online resource for hiring professionals and job seekers to find the best staffing agencies to call when they are in need.
Contact
Sarah Foutz, Social Media Outreach
214-430-6402
sarah@ironsidehr.com