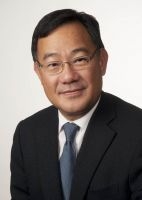 Oklahoma City, OK, March 02, 2017 --(
PR.com
)-- Cheng-Lun Soo, MD of Oklahoma City, Oklahoma has been recognized as a Top 100 Doctor for two consecutive years, 2016 and 2017, by Strathmore's Who's Who Worldwide Edition for his outstanding achievements and contributions for over 23 years in the field of orthopedic healthcare.
About Cheng-Lun Soo, MD
Dr. Soo is the Owner and a Physician for 16 years at Orthopedic Reconstruction Center which is a medical center providing orthopedic patient care in Oklahoma City, Oklahoma. He specializes in orthopedic spinal surgery. He is fluent in English and Chinese.
Dr. Soo is affiliated with multiple hospitals in the area, including Deaconess Hospital and Integris Southwest Medical Center. Dr. Soo is a member of the A.A.O.S., the N.A.S.S and the Oklahoma Orthopedic Society.
Born in Taipei, Taiwan on October 20, 1958, Dr. Soo obtained a M.D. from the University of Kentucky, School of Medicine in 1993 and completed his orthopedic residency and surgery internship at Baylor College of Medicine. He conducted his spine fellowship in a combined program at the University of Louisville and Tulane University. Dr. Soo is Board Certified in Orthopedic Surgery-spine.
For further information, contact www.orc-ok.com.
About Strathmore's Who's Who Worldwide
Strathmore's Who's Who Worldwide is an international advertising, networking and publishing company based in Farmingdale, New York. They are proud to be able to satisfy their clients and continue to have repeat clientele due to their longevity and pride in their products and services. The Owners strive to connect business professionals to enhance their contact base and networking capabilities so they can get the acknowledgment and publicity within their industries and beyond. The Strathmore family has been providing these valuable services for over two decades. They target executives and professionals in all industries to be featured in their publication and on-line directory. Industries include business, law, education, healthcare and medicine, fine arts, IT, government, science, real estate, entertainment and many more accomplished fields. Professional profiles are listed in an annual hardcover journal and in a detailed, searchable database on the website www.strww.com.