Dawna Lee Heising Wins Ms. World 2008
Crowning Held at the Wynn Hotel in Las Vegas, Nevada, from January 22 through January 26, 2008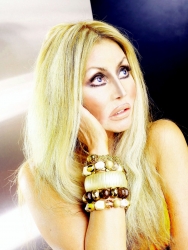 Huntington Beach, CA, February 03, 2008 --(
PR.com
)-- Dawna Lee Heising is Ms. World 2008 for the Ambassadorial Society of America, founded by Venus Day. The crowning was held at the Wynn Hotel in Las Vegas, Nevada, on January 26, 2008. According to the Society, an Ambassador must show excellence in at least one of the following fields: Education; Medicine; Arts; Humanities; Business; Technology; and Health and Science and must actively participate in community service. Judges for the pageant heavily weigh information pertaining to the contestant's "continuous active pursuit in making the world a better place for tomorrow."
As an Ambassador to the World winner, Ms. Heising is charged with promoting the goals of the Ambassadorial Society of America. Ambassadors to the World are expected to continually promote the Society locally and nationally to the media through the press, television, radio and print. Ambassadors are rigorously reviewed in terms of their communication skills, diplomacy, etiquette, understanding of other cultures and languages, willingness to learn about others, comfort with making appearances, charity work and ability to teach seminars and lecture regarding global community service platforms. Ambassadors must also be familiar with public relations and possess the ability to create excitement over the goals of the Ambassadorial Society of America and their own ongoing community service projects.
Venus Day, of Daytona Beach, Florida, is the founder of the Ambassadorial Society of America. She is a member of Mensa and is a scientist and engineer who has undergone training for the Advanced Space Academy at the Space and Rocket Center in Huntsville, Alabama. In a span of 15 years, Ms. Day rose from a Programmer/Analyst to Consultant to Associate Chief Engineer and COO to owning her own business. Ms. Day's areas of expertise include large scale systems development and integration, systems security, standards compliance, Electronic Funds Transfer (EFT) and federal benefits and healthcare compliance/integrity program development. She has worked on projects with a diverse number of federal agencies, including the Health Care Financing Administration (HCFA), Department of Health and Human Services (HHS) and the Department of Defense (DoD). Ms. Day is a graduate of the University of Notre Dame in Computer Science and Economics. Dr. Ian Day, her husband, is also a Notre Dame graduate and attended Georgetown School of Medicine. Dr. Day is on the Ambassadorial Board of Directors and is a Fellow of the Royal Society of Medicine and the Royal Society of the Arts. Ms. Day, an engineer, recently participated in a mission to the Engeye Health Clinic in Uganda where she installed solar panel lighting and instituted water purification systems.
Dawna Lee Heising, Ms. World 2008, is from Huntington Beach, California. She is the executive producer and host of "Eye on Entertainment", a television interview show on Time Warner Cable. Through "Eye on Entertainment", she interviews successful people in all walks of life. Past shows have included interviews on the red carpet at Night of 100 Stars and the Diversity Awards, and an upcoming show will feature interviews with Chris Tashima, an Oscar-winning director and actor, Joycelyne Lew, a successful actress and entrepreneur and with Thomas Dooley, the soccer superstar. Dawna is also the president of Heising Communications, a marketing and public relations organization, and works in channel marketing for a large international software company. Ms. Heising has a B.S. in Business Management amd MBA from Pepperdine University and a Ph.D. in Business Management from Pacific Western University. She is listed in "Who's Who in Technology" and is a long-standing member of the Screen Actor's Guild. Dawna has acted in film, TV and theatre productions, including "Fantasy Island", "The New Gidget", "Bring 'Em Back Alive and was Cleo, the Snake Dancer, in the last "Magnum, P.I." Her uncle is Tak Fujimoto, the acclaimed director of cinematography for numerous films. Ms. Heising has also worked as a professional swimsuit model for Ujena and other companies. Ms. Heising is a volunteer for the American Heart Association and was the VIP Chairman for the 2007 Orange County Heartwalk. She served on the 2007 Planning Committee for the Orange County Heart Gala and is currently on the 2008 Planning Committee. Her husband Paul is a financial planner and is a partner with Moran, Kimura & Heising, LLC. She has two beautiful daughters, Marissa and Misty.
Ambassadorial Society of America, Inc.
Venus Day is the founder and owner of The Ambassadorial Society of America, LLC. The Ambassadorial Society of America is founded on the premise that there are individuals all around us who are every day heroes. Membership is provided via nomination and invitation only. The Universe, International and World Ambassador titles are awards given to those who have tremendous accomplishments in the areas of the Arts, Education, Humanities, Technology, Health and Human Services, Business and Community Service. The Ambassadorial Society of America is a non religious, nonsectarian and nonpartisan group. For more information about the Ambassadorial Society of America, go to: www.UniverseAmbassador.org.
###
Contact
Eye on Entertainment
Dawna Lee Heising
(714) 390-7122
www.dawnaleeheising.com

Contact